Tips for Brides (T4B) is a weekly feature where I talk about a cool tip that I think will benefit brides everywhere. For more T4Bs, click here!
Today's Tip for Brides is about the First Look. In short, a "First Look" is a photography term for a period of time just before the ceremony where the bride and groom see each other for the first time and then have some portraits taken of just the two of them. Here in the South, most brides really try to stick to the tradition of not seeing their fiancés for the first time until they walk down the aisle, and I totally respect and appreciate that. However, often that results in very little time and light for photos afterwards, something that many of my couples who declined to do a First Look have told me they later regretted.
So how does a First Look work? Basically we find a quiet, secluded area, and have the groom come out and stand with his back turned. Then we have the bride walk up behind him and surprise him in all of her beautiful, radiant glory. The groom gets to see his almost-wife in an intimate, private setting, where he can feel free to express his love and emotion without a hundred pairs of eyes studying him and judging his reaction. They can hug, or kiss, or whisper sweet nothings, or just laugh and have a good time.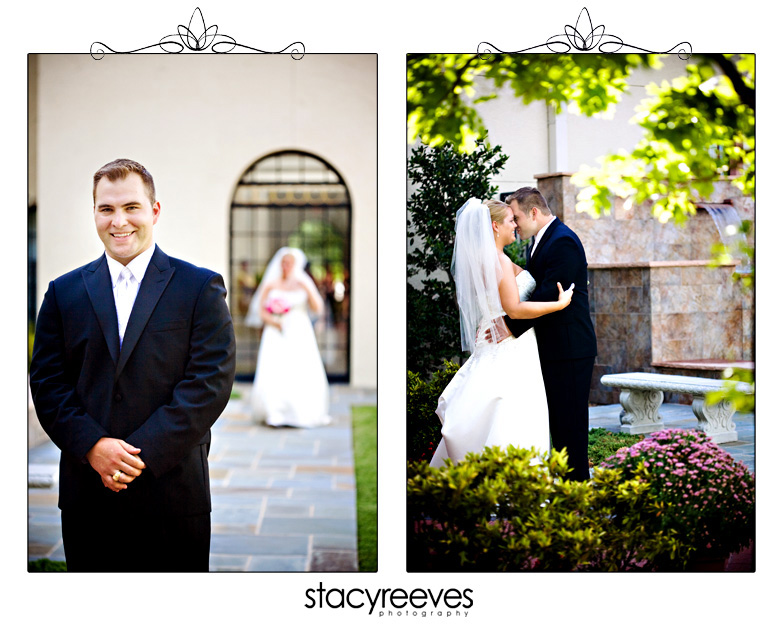 The point is – you get to ENJOY the moment, instead of rushing through it to get to the ceremony, hoping you don't trip over your aisle runner on the way down. And we, as photographers, can shoot the event from any angle we want, with any lighting we want, so we can make sure you get a beautiful image of that priceless moment, without being constricted by church or venue rules and lighting.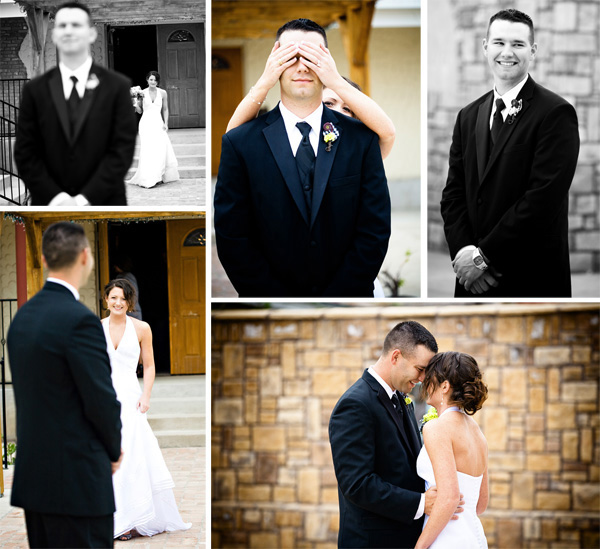 After you have both fully taken in the excitement of seeing each other, then we can focus on getting some wonderful couples portraits that you can display in your album and around your home. You can both relax and enjoy the experience, rather than rushing to finish before the sun sets, or worrying about getting to the reception on time, or being surrounded by a bunch of family members who make those intimate moments just a teensy bit awkward. And, after the ceremony is over, you get to the reception much faster, so you can spend even more time dancing and enjoying your loved ones. It's pretty much a win-win situation for everyone!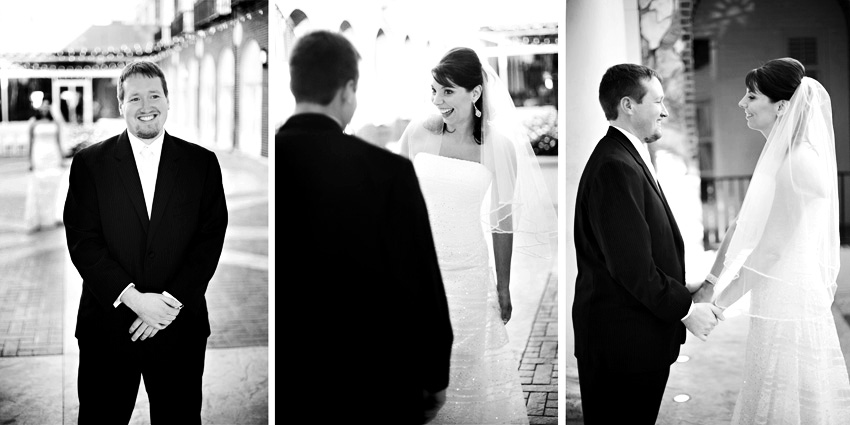 The First Look isn't for everyone, but I strongly recommend it for brides who get married in Fall and Winter when the sun sets earlier, brides who are concerned about getting to their reception as quickly as possible, and brides who want a larger-than-usual quantity of photos with their new husband on the wedding day. If you do it, you will be glad that you did, I promise!!