If you find this page useful, please leave a comment and let me know!
Although we include the digital negatives and a limited release in all of our packages (unless you substitute it for something else), people still have a lot of misconceptions about what digital negatives are and what they can do with them. Hopefully this guide will help you to understand a little bit more about this popular item.
What are digital negatives?
Think about what film negatives are.. Small, unedited, easy to store, with lots of potential. Digital negatives are the same way. These files have had very minor tweaking (if any), no retouching, no resizing. They are a blank canvas, with lots of potential, if you know how to use them. However, digital negatives are NOT the images you see in our portfolio, in our albums, and on our blog. The photos we present have had extensive editing.
Why would I want them?
Many people want these files because they feel better about having a digital copy of all of their wedding images, or because they want to print the photos off themselves, or because they want to post their photos online, such as on Facebook, MySpace, or a personal wedding website. You are welcome to do whatever you please with your negatives, as long as it falls under the usage agreement. If you would like to see a copy of the usage agreement, let us know and we will be happy to provide a voided sample.
When I get the digital negatives, does that mean I own the copyright?
No! Per federal law, we retain the copyright to every image we take. When you purchase the digital negatives, you receive the images on a disc, plus a written release that gives you permission to use the images for certain purposes, such as making prints or other photo products, posting on a website, or for personal use. The release is specific to the person or persons purchasing the digital negatives only, and cannot be duplicated for others' use. If you wish to purchase the copyright, you can do so for an additional $5000, which includes a Non-Disclosure Agreement specifying that we will no longer possess or use the images in any way.
What CAN'T I do with the digital negatives?
First and foremost, you cannot transfer or sell your copyright release to anyone else. This means that you can't e-mail the photos to your Aunt Betty and tell her she is free to make all the prints she wants. Only the bride and groom have permission to use the images. You also cannot make significant changes to the images we give you (cropping and resizing are ok, but please leave the image editing to us – that's what you pay us for!). You also cannot sell digital files or prints of the images to your friends and relatives, wedding magazines or websites (although we are happy to submit your images to wedding magazines or blogs on your behalf), your other wedding day vendors, or anyone else. Stacy Reeves Photography is the only entity authorized to sell or distribute the images that we take. If you have a specific request, we are more than happy to work with you to accommodate your needs.
When will I get the digital negatives?
All of the digital files are packaged together on a USB flash drive and delivered after all photo services have been completed (typically this is after the wedding, but if you're doing a Day After session at a later time, the digital files will be delivered after that session). If you need a couple of digital files before the wedding, such as for a Save The Date card or newspaper announcement, we will be happy to provide that for you. Once you receive the digital files, we strongly recommend backing them up immediately in case you lose the USB flash drive or it becomes corrupted. There is a $250 fee for replacement of the digital files, so make sure you back up your files!
Why are your photos so expensive?
The process that each image goes through before being printed can take hours, and is very skilled work, so we charge accordingly for this service. This is why there is such a big price difference between taking a digital negative to your local neighborhood one-hour photo and getting a 4×6 for $.20 and purchasing one from us for $15. At the one-hour photo place, you are paying for the low-quality paper it is printed on, the antiquated equipment that prints it, and the two seconds it takes them to run the image through some generic tweaking (which usually makes the image WORSE, not better). When you purchase from the photographer directly, you are getting an image printed by a professional photo lab on super high-quality photographic paper and whatever time it takes us to carefully tweak and retouch the image and then calibrate it to the specific printer that our lab will be using, as well as our guarantee that if something is wrong with the print you receive, we will replace it free of charge until you are satisfied. This requires expensive computer software and hardware, as well as lots and lots of time (roughly 15-30 minutes per image). For large prints, we also have a special process that allows us to enlarge the image to virtually any size without any loss of quality. This is something that you just can't get at one-hour photo shops.
What exactly does "editing" a photo entail?
This is truly a huge question, and hard to answer with words. It can mean increasing contrast, adjusting the white balance, changing color hues, removing pimples, slimming down unattractive body parts, opening closed eyes, erasing debris or distracting backgrounds, adding special effects like vignettes or sepia, etc. The possibilities are endless, and every single image requires something different.
Furthermore, each image goes through two different rounds of editing. The first round of editing is where we make minor tweaks to the image to make it presentable for proofing.
It's much easier to answer this question visually. In the following examples, the "unedited" photo is the image straight out of the camera, the "proof" photo is the photo after the first round of editing (this is the image that you will see in your proofing galleries, as well as the image you will receive with your digital negatives), and the "edited" photo is the image after extensive retouching work that we will use for prints, albums, canvases, etc.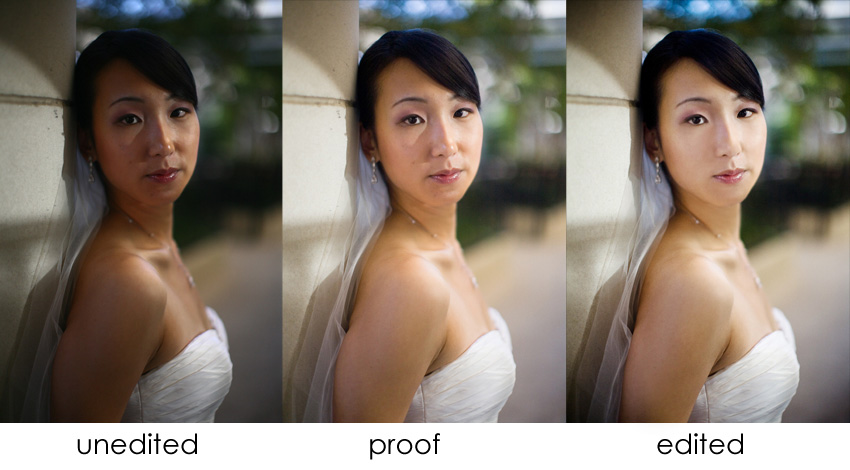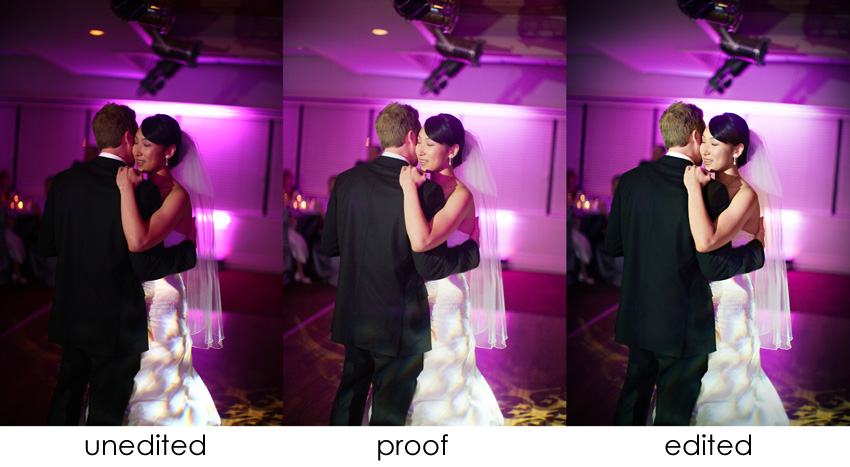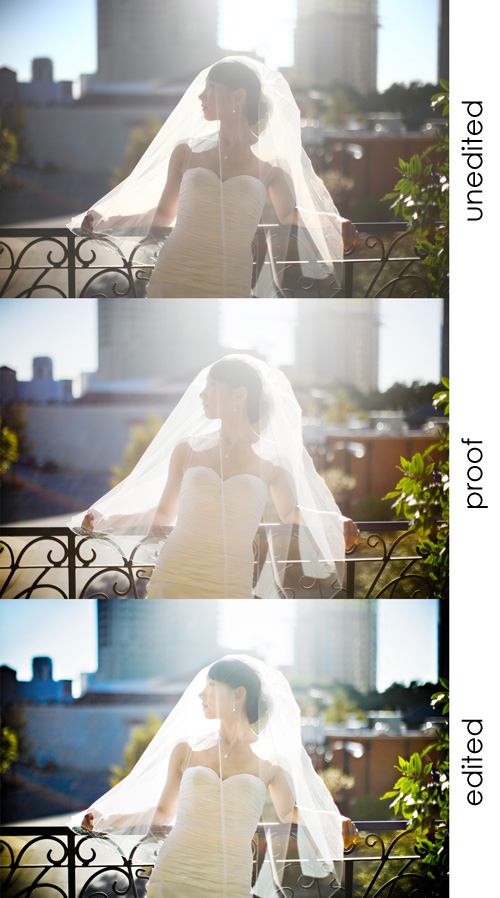 I love the look of the edited photos, but I want the digital negatives. Can I pay extra for you to retouch all of them?
For an average wedding with 500 proofs, it would take us around 250 hours to do this, which would take six weeks of working non-stop 40 hour weeks, and the cost would run into the tens of thousands of dollars. Frankly, although we would love that money, we cannot sacrifice that much of our time or we would be forced to neglect our other clients. We can do retouching on individual digital files for $35 an hour (typically two images per hour), or if you purchase a 16×20 or larger of any image, we will provide you with the edited image file at no extra charge.
If you have any more questions about editing, digital negatives, or anything else, please e-mail me and I will be happy to help!