Carrie and Preston are easily two of the most fun clients I have ever had. I have been blessed to work with some really awesome people (no Bridezillas yet – knock on wood!), but few people I know have been able to make me laugh as hard as these two. Their smiles and laughter are infectious, it's really impossible to be around them and not have a good time. So, when they asked me to fly with them to New York City for a destination portrait session, even my fear of flying couldn't keep me from saying yes!
Here are some of my favorites from the trip:
We started off in Central Park, which I thought would be cheesy, but it actually turned out to be fantastic for photos. There are so many neat areas with cool and unusual architecture, I could have shot there all day! I really loved how you could see the city peeking in through the tree branches.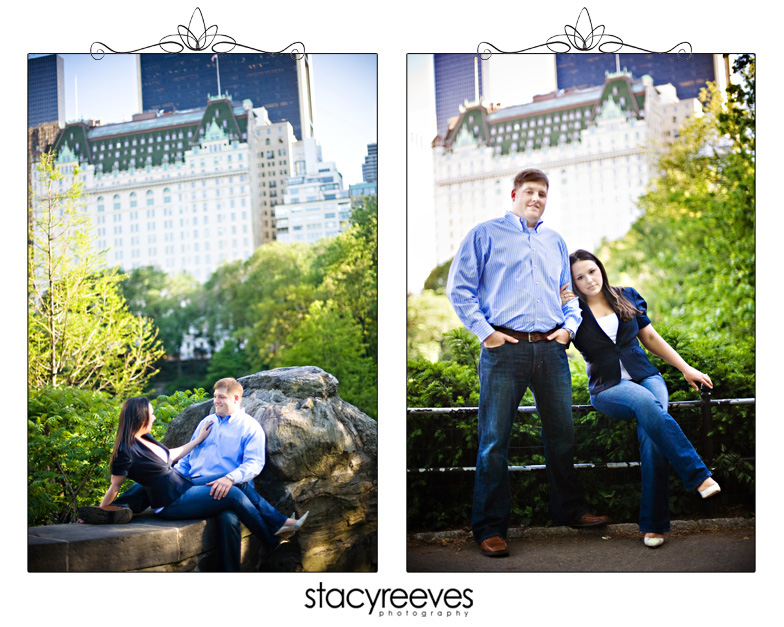 We found this neat Roman-esque area by the fountains.
Getting romantic :)
One of my favorite shots of the day.. I'm not sure why, I just love it!

See what I mean about these two being hilarious? Preston had to get in on the dipping action, too!


Then we hit the subway…

And headed to the Brooklyn Bridge!


Finally it was time to finish up at one of my new favorite places in the world, the heart of New York City, Times Square!


Carrie and Preston, thank you so much for hanging out with me and helping me to see the gloriousness that is New York City for the very first time.  You guys are a BLAST to hang out with, I am so so excited about your wedding.  I can already tell I am going to have so much fun with you two!
If anyone out there is interested in doing a destination portrait session, send me an e-mail and let me know.  I travel worldwide, and destination packages including my session fees, airfare, and hotel start at only $750 for select locations!  Where would you like to go?  :)