Tips for Photographers (T4P) is a weekly feature where I talk about a cool tip that I think will benefit my fellow photographers. For more T4Ps, click here!
Today's Tip for Photographers is something that I talk about quite a bit already, but it's super important so it's always worthy of another mention. For me, albums are the cornerstone of my business. In my eyes, I sell two products – my time, and my albums. Those are the two biggest expenses on my pricelist, because they are the heart of what I do. Some people take photos to take photos, I take photos to create albums.
The company I use for my albums is absolutely wonderful and fantastic in every way. The company is called Forbeyon and they are a dream to work with. A few months ago I took a tour of their showroom and got a newfound respect for what they do. All of their albums are handmade, right here in Dallas Texas, with top of the line quality materials, and a rigorous quality inspection process. Since day one of working with Forbeyon, it has been obvious to me that the most important aspect of their business is creating a high-quality product, and I really respect that. I have looked into a lot of other album companies, but I always come back to Forbeyon. I could gush about them all day!! To learn more about the albums I offer, check out this page.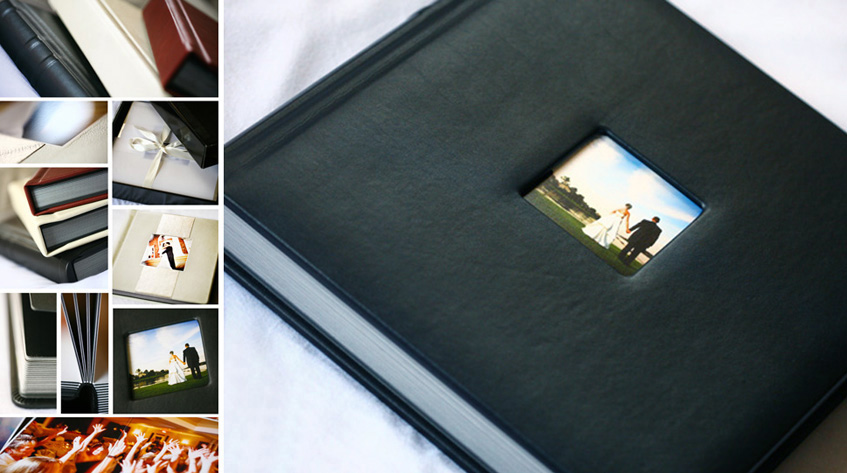 Although Forbeyon does have a design team that will create great album designs for you, I am a control freak so I choose to design my albums myself. I do this using the Page Gallery software by Yervant. Although I have had some issues with this software (their tech support is less than stellar), I really can't live without it. It takes me about an hour to design a full 60-page wedding book, which is unheard of. It used to take me a week just to design a small book, now I can whip out 2-3 a day! It's a template-based program, but has several options to customize pages, and it outputs PSD files so you can tweak them by hand, as well.
It blows my mind when I hear that some people are not even offering albums at all, let alone not offering them in their packages. If you're not selling albums, not only are you providing your clients with an incomplete service, but you're losing a lot of potential revenue. However, to sell a product, you have to have samples to show, so make sure you have several great, top of the line sample albums to take with you to client consultations. I have about 8-10 books altogether – one for each year I have been in the business, several duplicates of client's books, a photobooth album, a details album, and a guestbook album. And don't complain about how you can't afford sample albums – a couple hundred invested in sample books will mean THOUSANDS of dollars in a return on your investment, if you price them correctly. Totally worth it!!