I'm going to be painfully and brutally honest:  This has not been a good year for me, business-wise.  That's not to say I'm having trouble booking or not making money – quite the contrary.  This year I have more weddings on the books than I ever have, and while I am so incredibly thankful to be succeeding, I'm learning that there's a price for everything.  My social life has all but vanished, and virtually every waking moment of my life is consumed with shooting, editing, or working.  On almost any given day, from the moment I open my eyes until the moment my head hits the pillows again, I am doing something related to my job.  I hired staff to help out this year with grand ideas of having free time to myself, being able to blog and network more, gearing up to be a better wife for my future husband Jason, and possibly even travel a bit.  Well, I was a bit delusional, to say the least.  The good side to this is that I absolutely LOVE what I do, so even though I have become a full-fledged workaholic, I am loving every second of it.  I have so many "I can't believe this is my life" moments, and I wouldn't trade that for anything.  The down side is that working so much so often has left little time to pursue personal projects.  Recently, however, a fabulous shoot from a photographer I admire, Jose Villa, put a seed into my brain.  The shoot featured an amazing black wedding dress.  Normally when you see black wedding dresses, they're done in a very harsh, goth sort of way.  Jose took a different approach, and shot it in a romantic, soft, classy atmosphere.  I wear black almost every day of my life (although I am trying to incorporate more color, you just can't beat a LBD and pearls), and although I will not be donning a black wedding dress for my nuptials, I loved the idea of taking a gorgeous black wedding gown and approaching it from a softer, more sophisticated perspective.  A week or so later I saw a photoshoot in Ibiza, Spain which featured Shakira in a massive seven-foot-long hot pink tutu.  The amazing silhouettes and texture of that inspired me as well, and in my mind a plan began to form.  I went to Joann Fabrics (I come from a long line of sewers – every girl should own a sewing machine! – so this place is like a second home for my mother, sister, and I) and purchased about eighty yards of black tulle.  I set aside one night for a personal project – a pretty big sacrifice, for me – and began to sew and stitch and gather and trim.  Soon an amazing piece of clothing began to take shape.  It obviously wasn't ready for prime time, but I knew it would look amazing on the right girl in the right setting.  But what to do with this beautiful masterpiece?
Last weekend, I traveled to Cooperstown to photograph a wedding for two incredible opera singers, and since my regular second shooter Jena couldn't make it, I asked friend and fellow wedding photographer Sarah Kate to come join me.  I imagined upstate NY to be fairy-tale land of tall trees, rolling hills, and gorgeous old houses.  What better place to don a truly massive swarm of black tulle?  Luckily, Sarah Kate is absolutely stunningly beautiful, and since I knew we would have the day before the wedding to ourselves, I talked (read: forced) Sarah Kate into modeling my tulle monstrosity for me.  As a fellow photographer I knew she would understand my need to push myself and try something different, and luckily she allowed me to dress her up like a doll (a very sexy, vampy doll) and force her to go traipsing through fields of who-knows-what.   Here are a few of my favorite images from the session!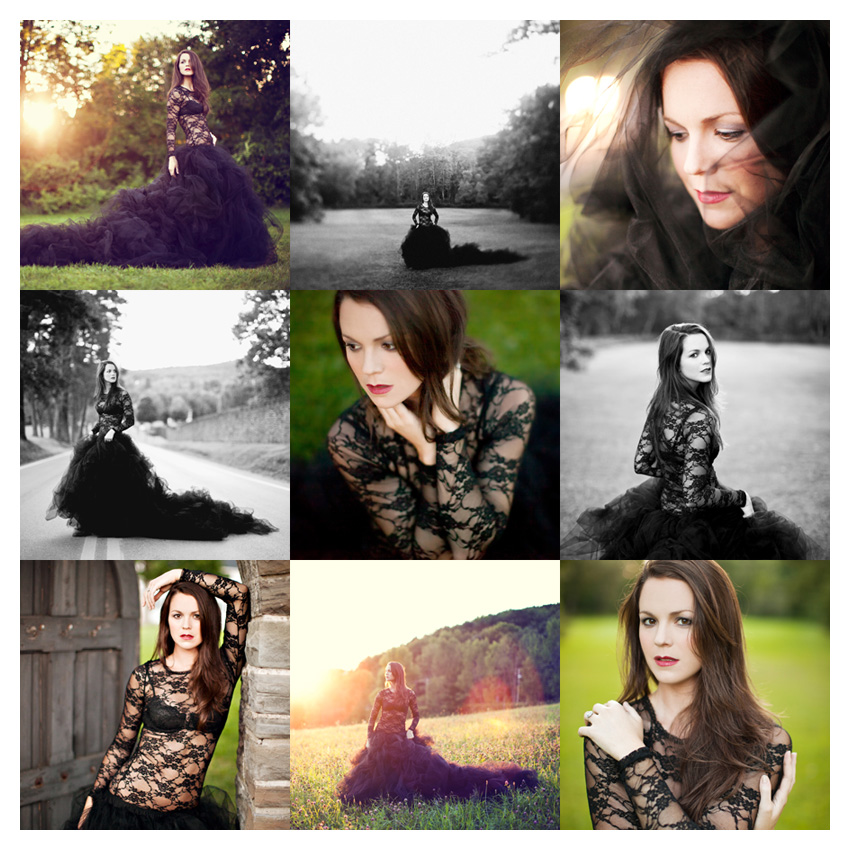 Follow the link below to see more!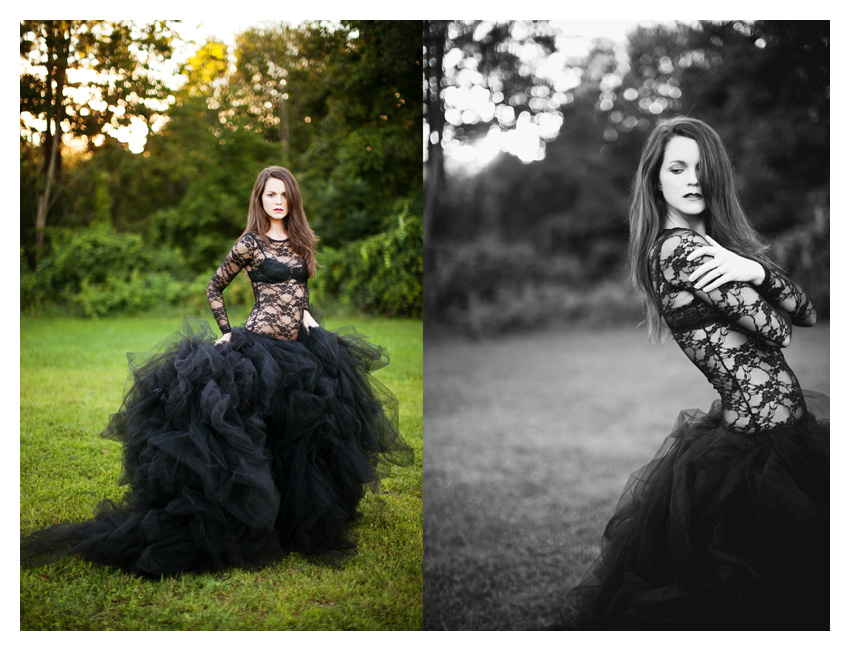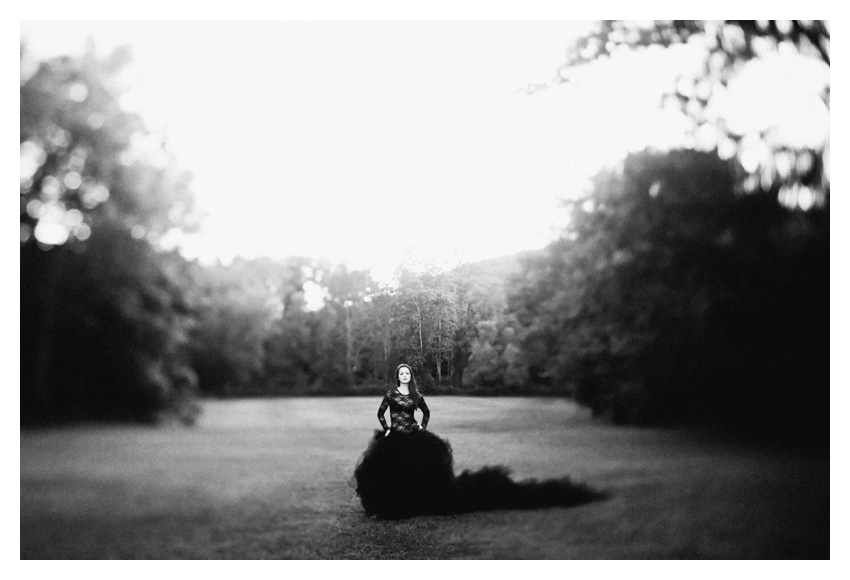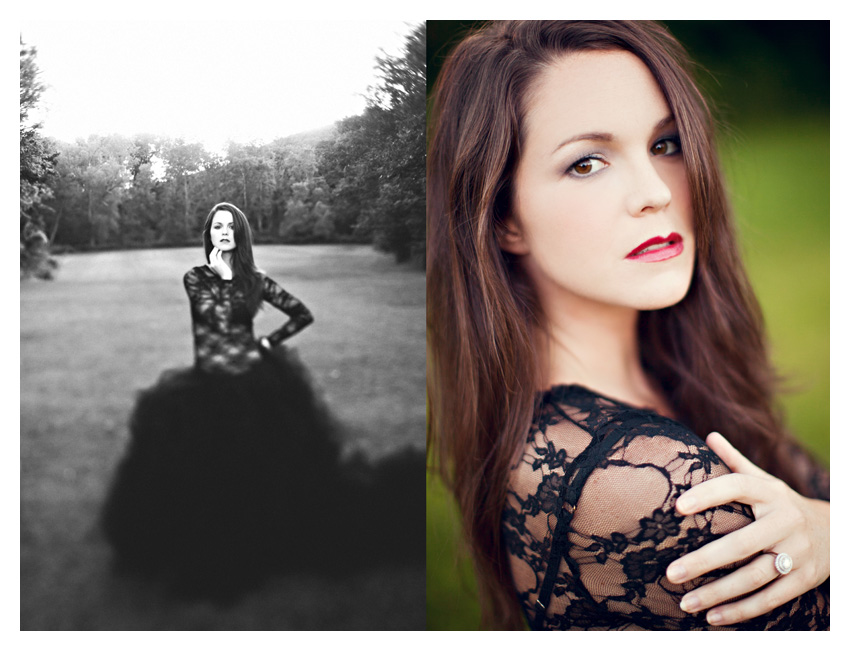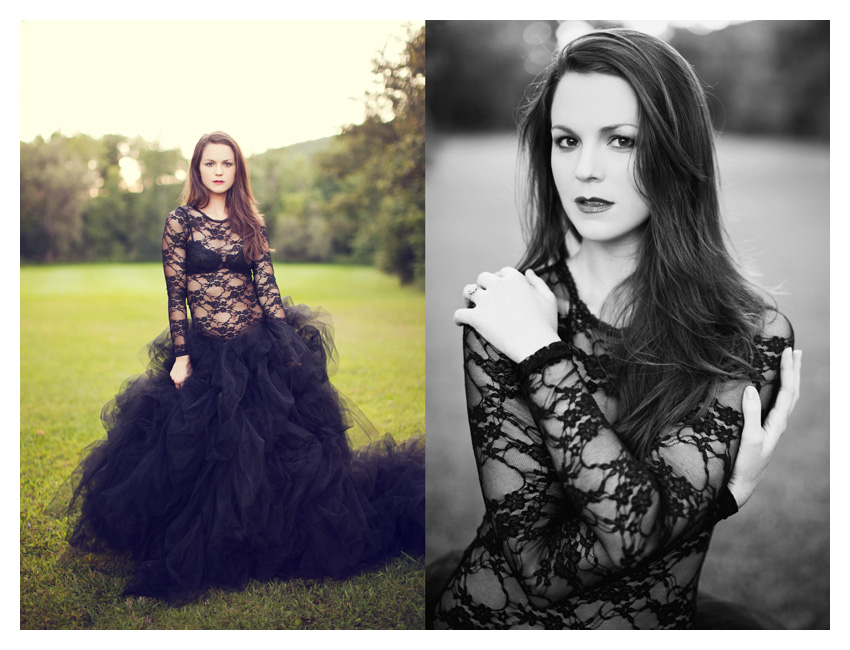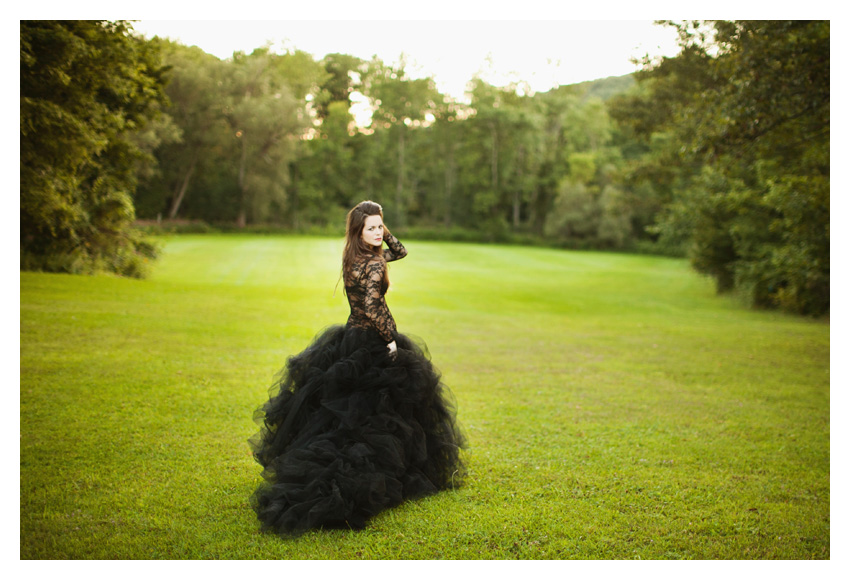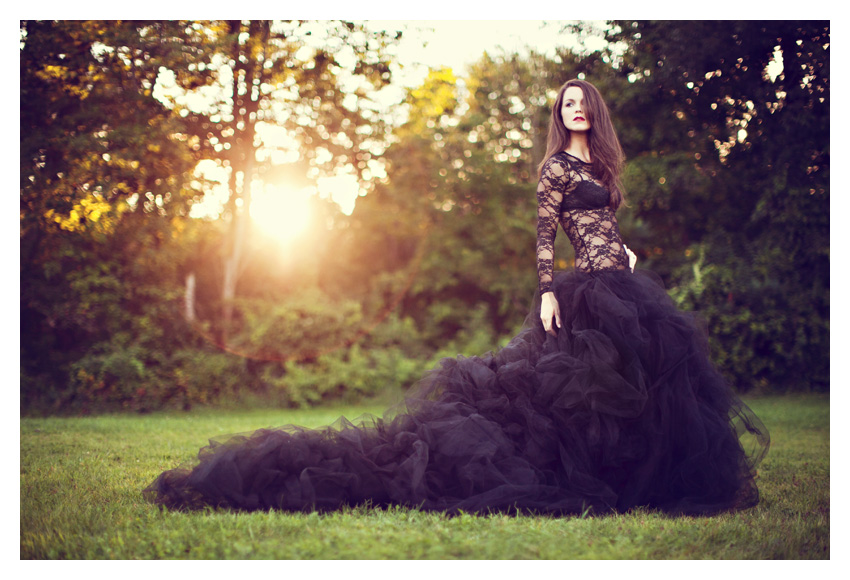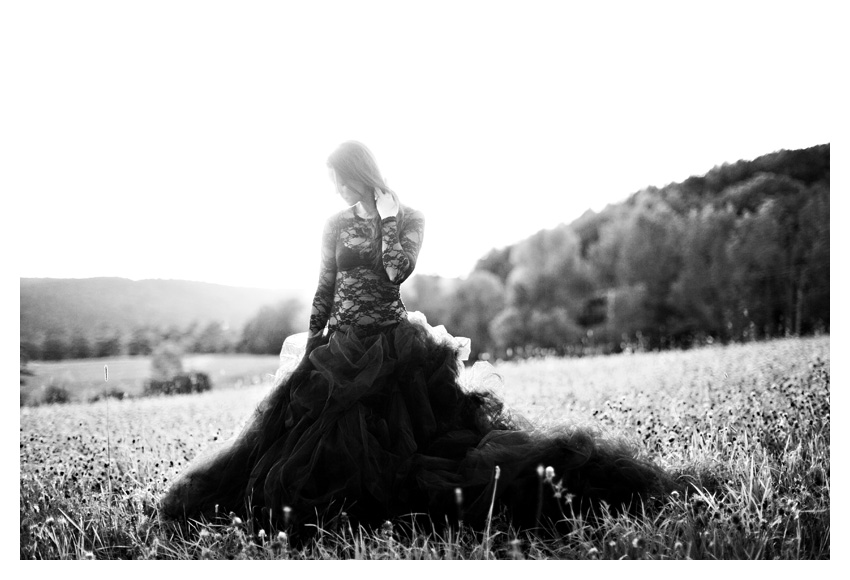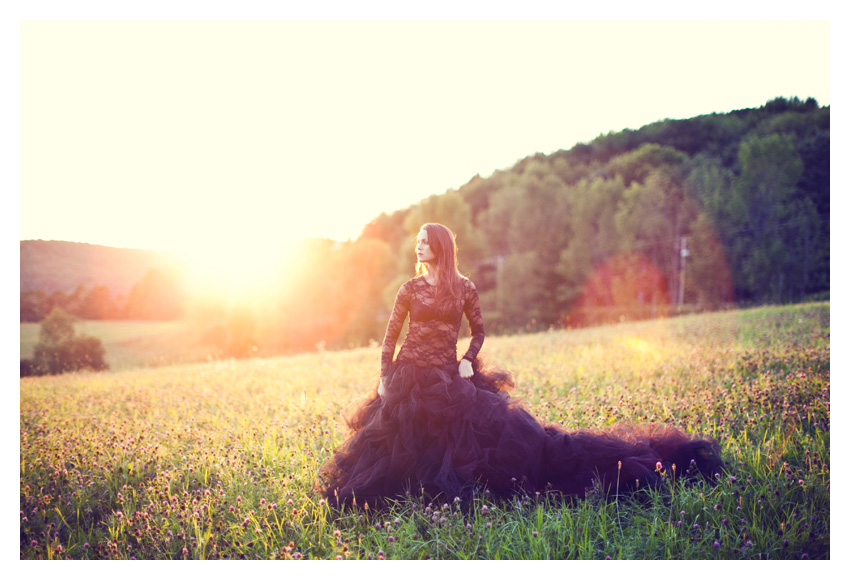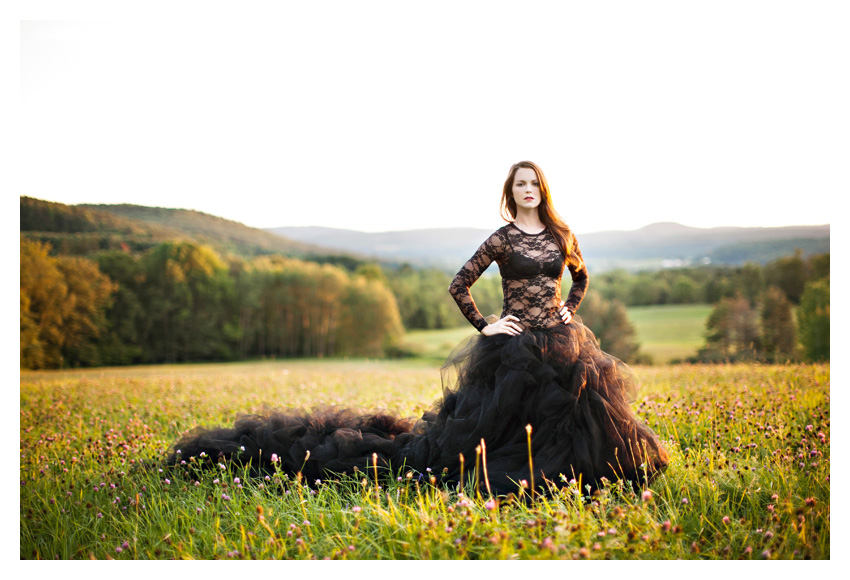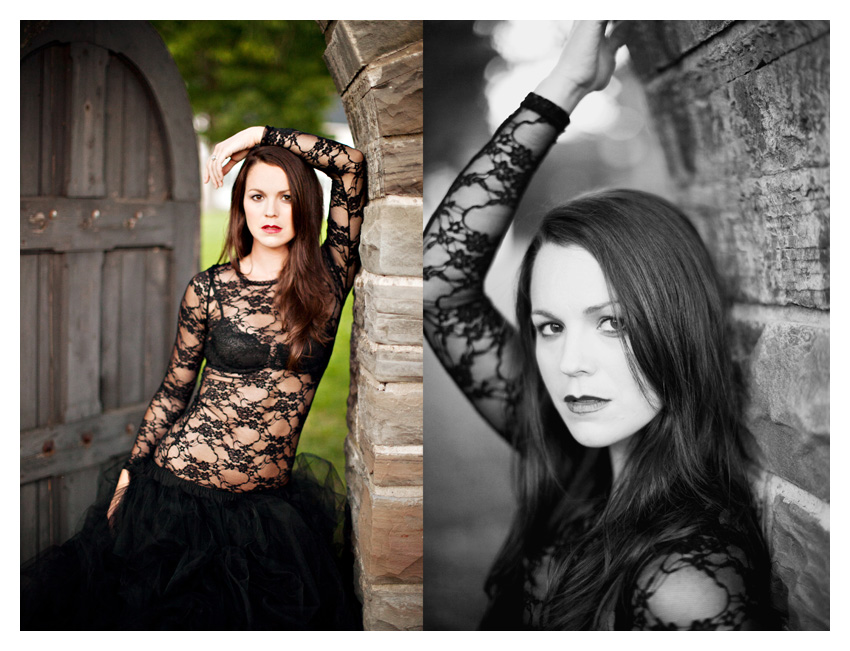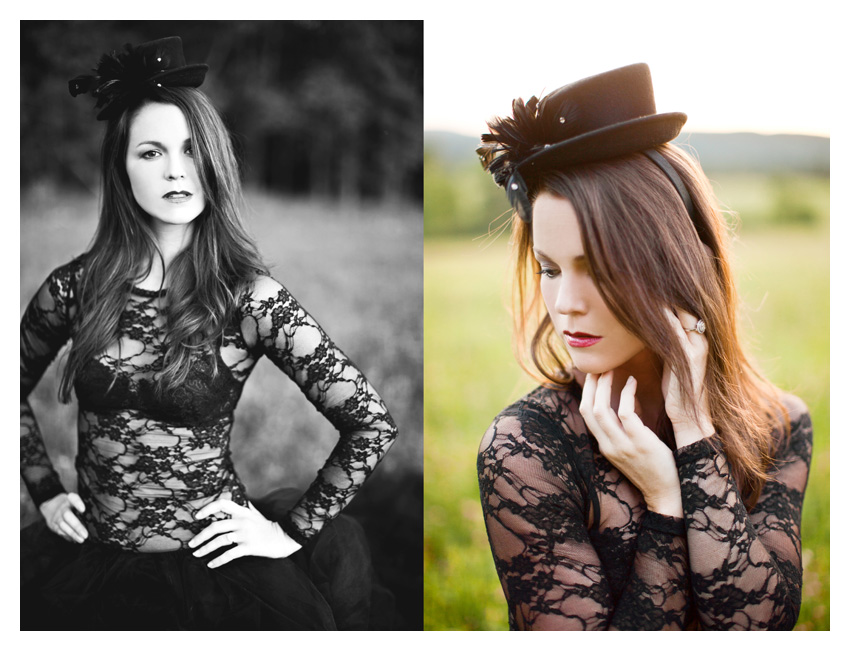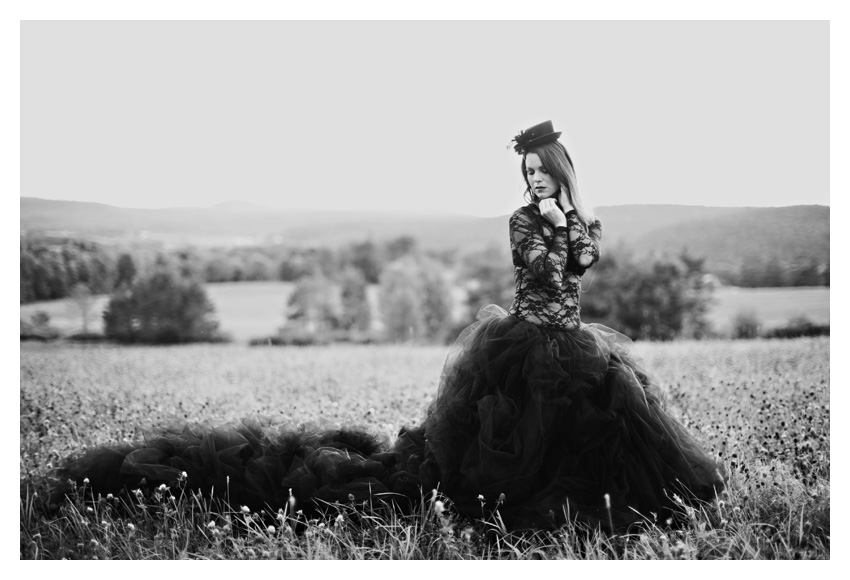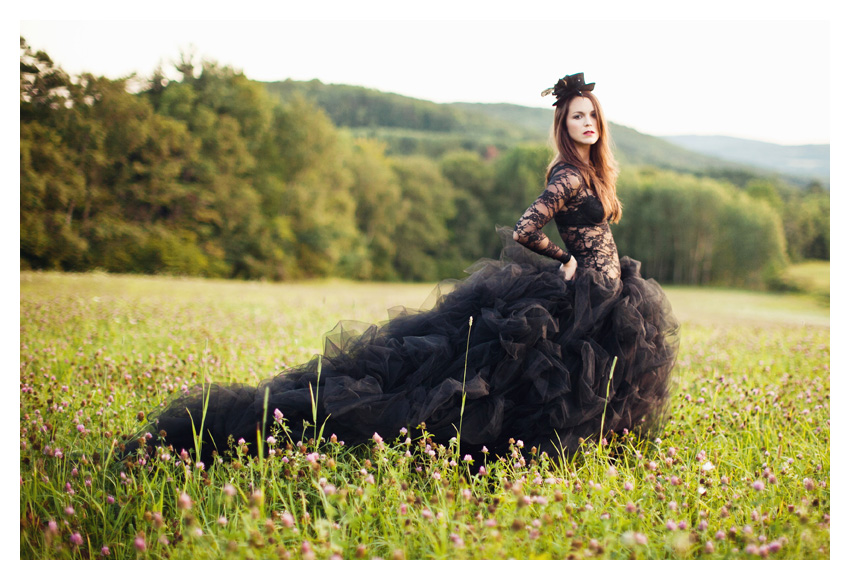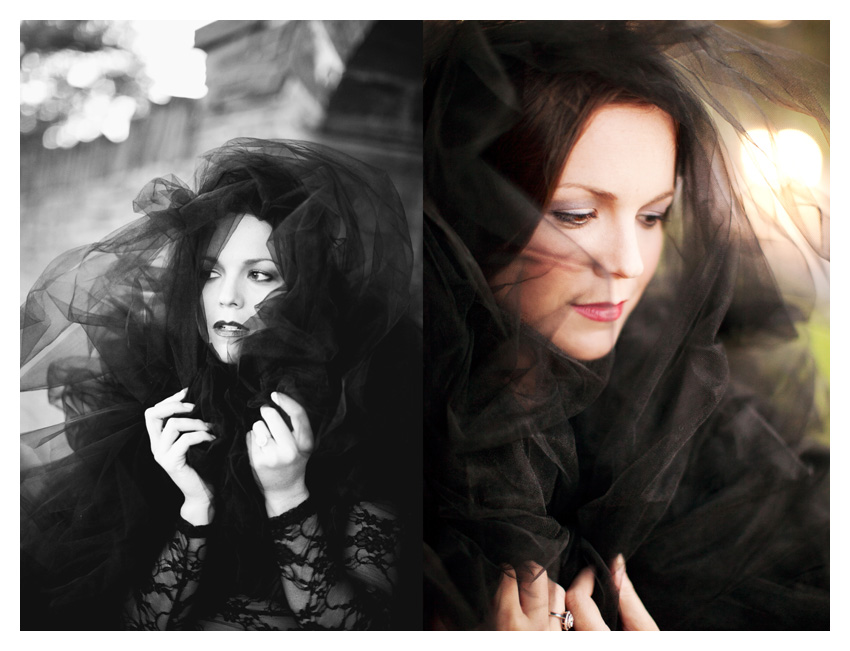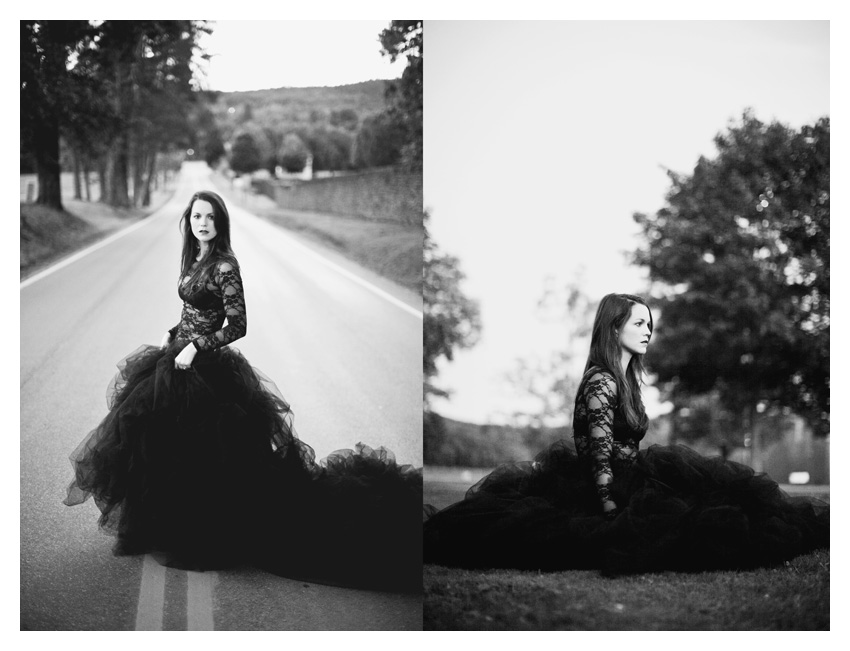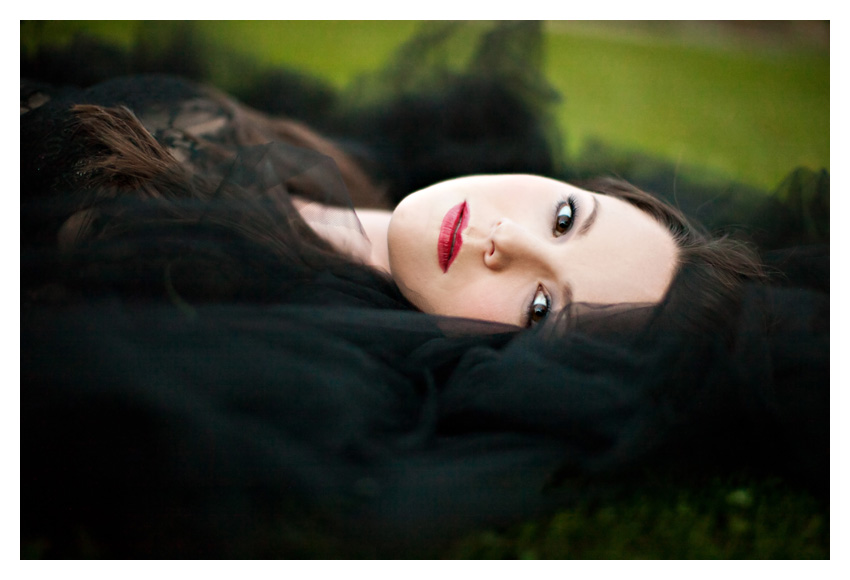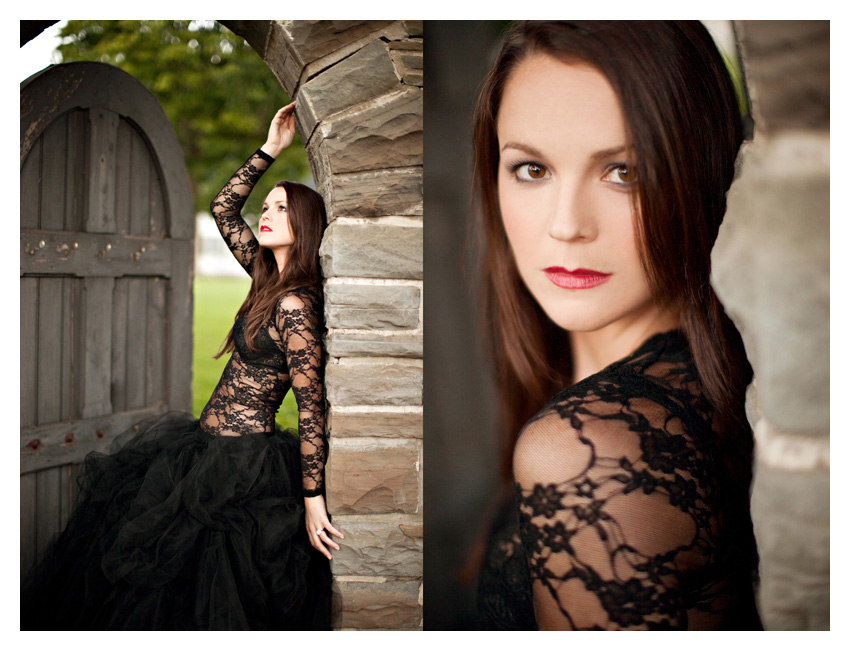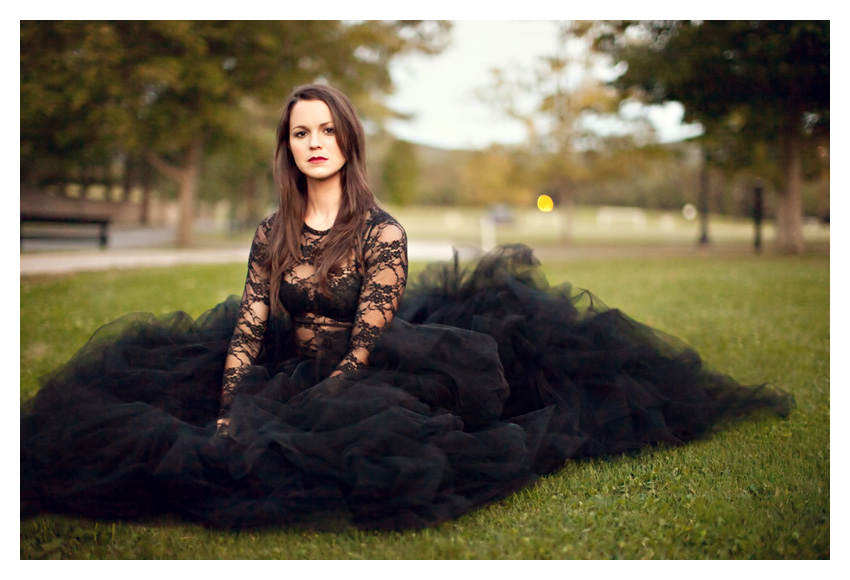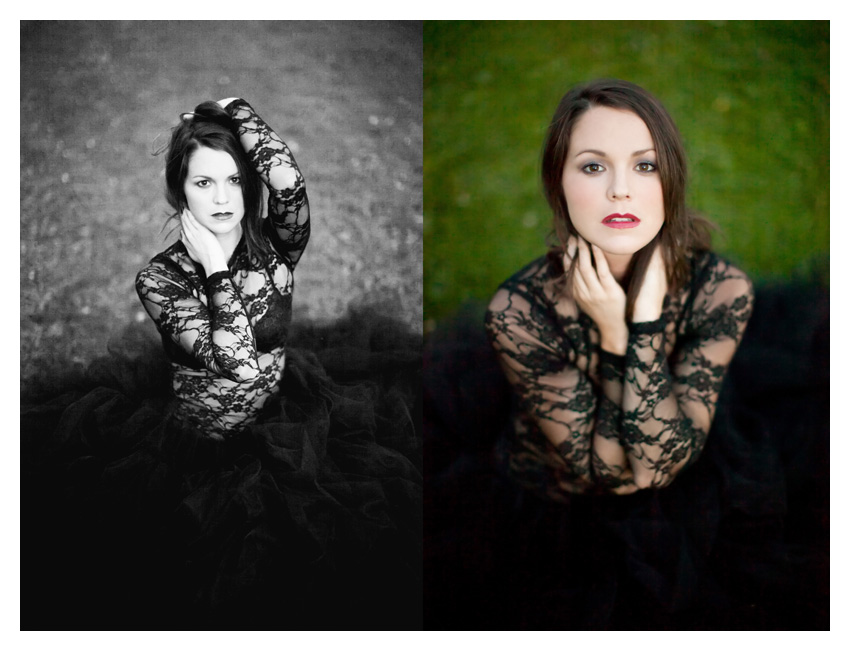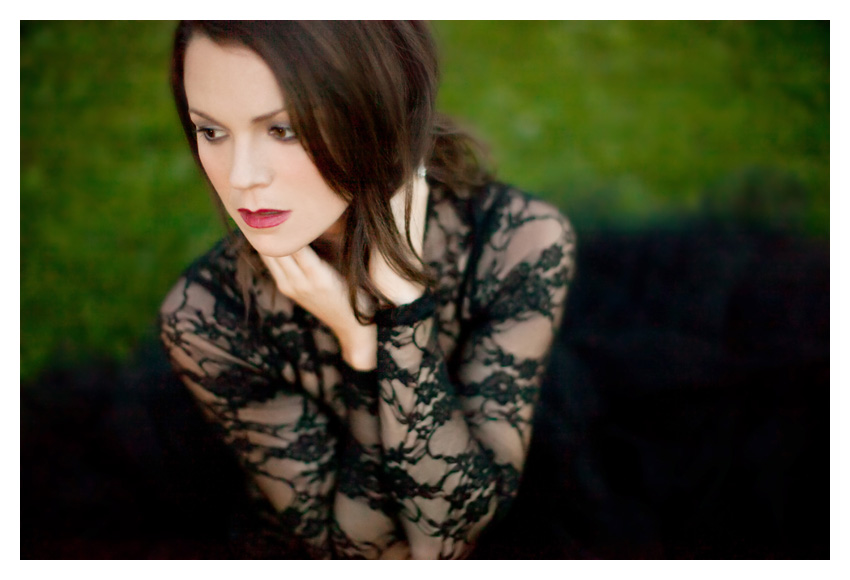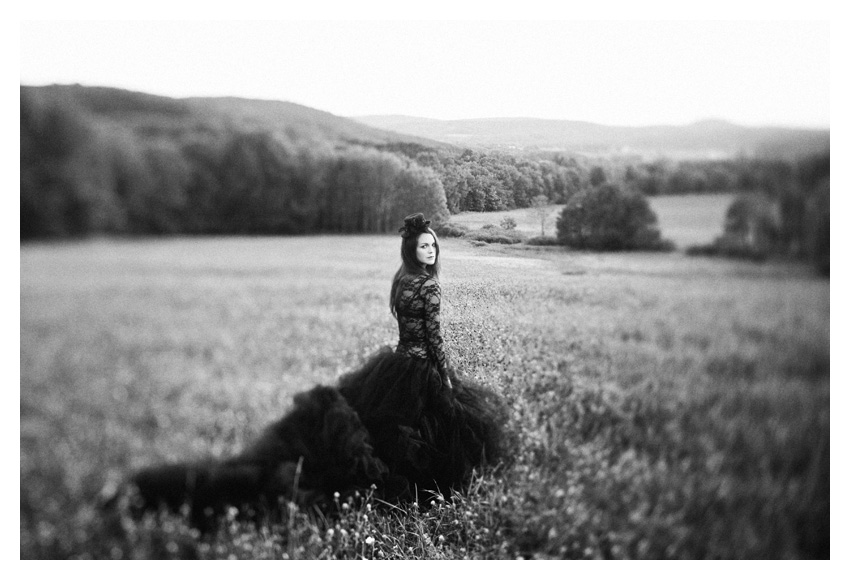 Thank you so much lovely Sarah Kate for being my muse.  HUUUGE thanks also to Mayra Rams-Sanabria, who is hands down the greatest makeup artist I know (evidenced by the fact that she was one of the first vendors I picked for my own wedding). Although Mayra did not pack up and come to NY with me, she did an impromptu makeup technique lesson with me so I could attempt to have 1/10 of her talent.  I hope to do a blog post just about her in the near future, but she is the only makeup artist I know whose brides are all 100% happy with their makeup and more importantly, who all look as good at the end of the night as they do when they leave her chair.  She is really amazing – if you need a makeup artist for your event, you would be out of your mind not to hire Mayra.  She's not cheap, but like anything in the wedding industry, you get what you pay for!!
I hope my blog readers enjoy seeing something different as much as I loved shooting it.  Although I adore shooting brides and couples and all things wedding related, I also relish the opportunity to go outside of my comfort zone.  If any of you have been aching to do something incredibly bold and unique, drop a line and let me know.  I am always up for a challenge!