Fellow photographers are always some of my favorite clients to work with. They understand the importance of trusting the photographer they hired and their vision and artistic style, but they also bring their own experience and creativity to their shoot. Lately I've been working with other wedding photographers a lot, which is both humbling and exciting. Once of my favorites has been Caroline Joy, an incredibly talented photographer formerly of Dallas, now located in Austin Texas. I have always adored her work, so I was literally jumping up and down with joy when she first inquired with me!  When I first met her, I thought to myself, this is the closest anyone can possibly get to a real life Disney princess.  She is petite, beautiful, has flawless skin and perfect hair, is always happy and laughing, always supporting everyone around her, and generally just a wonderful person inside and out.
Unfortunately, the stars did not align for me to photograph their wedding, but we did the next best thing and headed to Keller City Hall Park to do an engagement and Day After session. Considering Caroline's gorgeous photos, I wasn't the least bit surprised that discover that she and Aaron have impeccable style. I especially loved her bright red lipstick and the vintage bridal hairpiece she wore with her wedding gown, as well as their brand new adopted whippet Steve Z (who is already so in love with them, he whined whenever they weren't within arm's reach), and most of all their amazing creme Stella scooter that they bought for their wedding day. In fact, I was so obsessed with it that I immediately put it as the #1 item on my Christmas list! Maybe Santa will be kind to me this year, so I can look as cool as Caroline and Aaron! Here are some of my favorites from their day.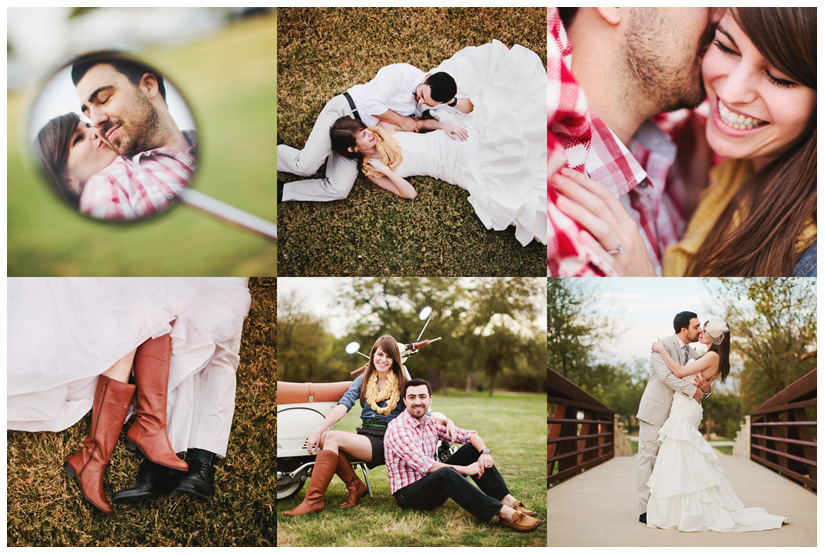 Follow the link below to see more!