As some of you may have noticed, things have changed quite a bit around here. If you're reading this using a blog subscription service such as Bloglines or Google Reader, please CLICK HERE to come over to my site and check out the new look!
After five and a half months of planning and waiting, I am so happy to present my new brand to all of you.  It has been a long time coming, and a lot of heart (and money!) has gone into gathering the right team to help make my vision a reality.
When I relaunched my business in June of last year, I knew that creating my new brand would be a long and involved process, and I would need to hire a professional to truly do it right. That professional was the one and only Ashley Jankowski of For the Love of Creating and the new design boutique Luxecetera. I can't say enough good things about this woman. She was such a godsend for me! She is the epitome of professional, she has fantastic ideas, she's patient and understanding, and most importantly, she's incredible at what she does. If any of you are looking for a new brand, I HIGHLY recommend going to Luxecetera and getting on their waiting list ASAP. They are so talented, and in my opinion their rates are extremely reasonable, especially considering the quality of their work. Your brand is the heart of your business, and it's worth investing in. You will not be disappointed!
The branding process started with these two things: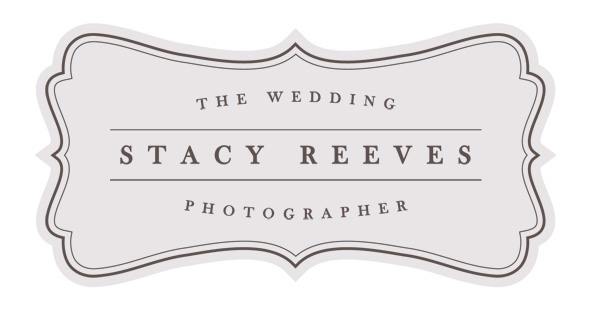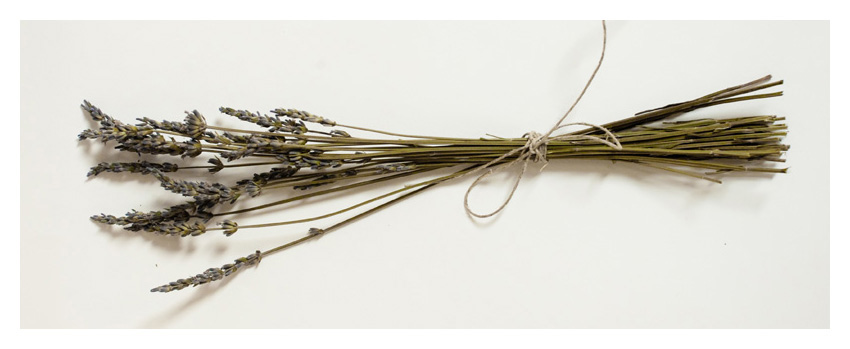 My logo, and a bundle of dried lavender. My logo, which Ashley created, was obviously the central part of the brand, but the lavender played an important part. It represents a lot of things I love – nature, calmness, femininity, antiquity, and a Southern charm – and it smells great, to boot! While brainstorming with Ashley I offered the idea of incorporating this somehow, and she translated that into some very elegant but subtle touches.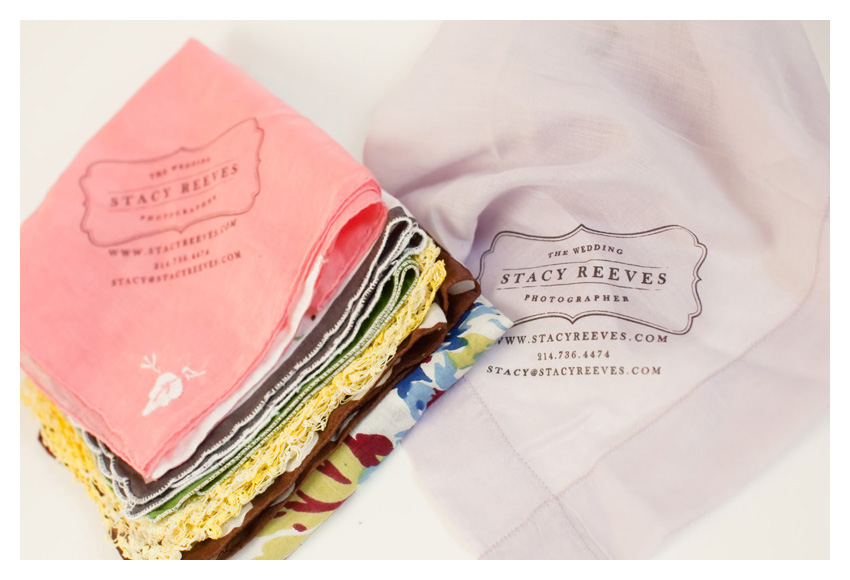 This is my favorite piece, and was also something that had a big influence on everything I did. I first got the idea from a post on one of my favorite websites, Elizabeth Anne Designs. They had featured some adorable Save The Date Handkerchiefs, and I loved the soft, romantic feel they had. I contacted Erin at Lucky Luxe Correspondence and she found a lot of vintage hankies for me to use as unique business cards. I love that each one is different, and that they have all had previous owners. It's neat to think of what the stories behind each handkerchief might be, and the path they traveled to become my new business card.  Thanks Erin for creating these for me!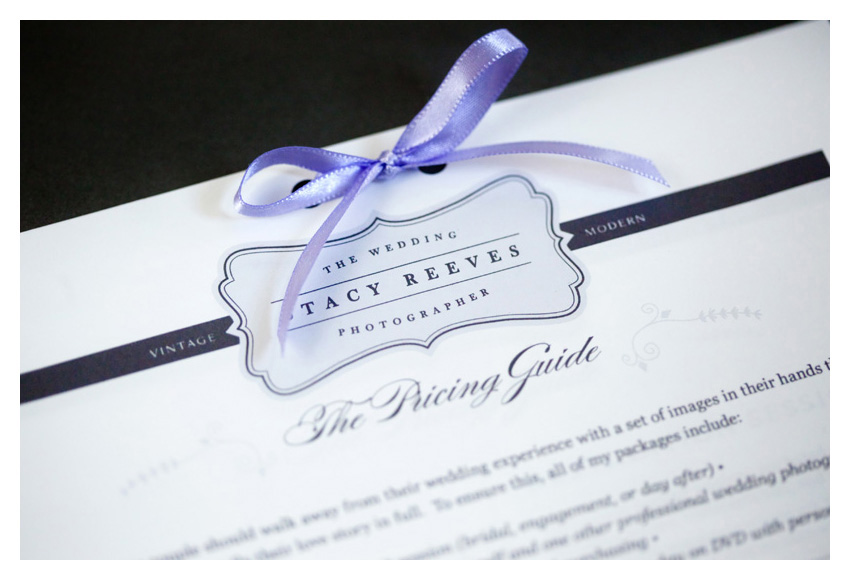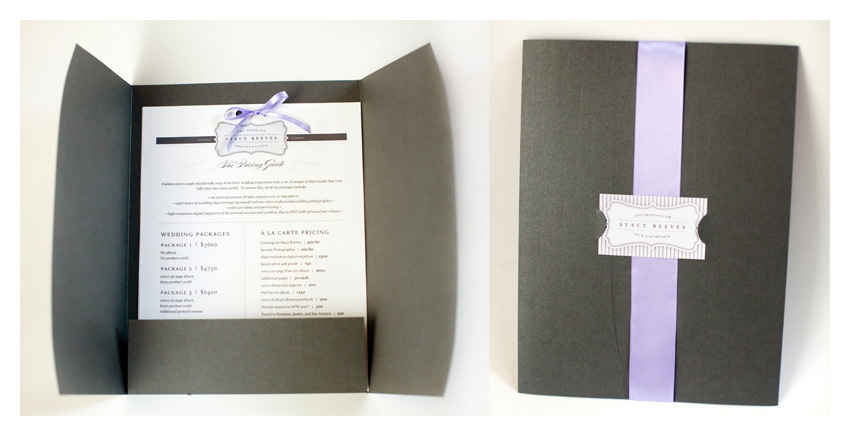 Ashley did an amazing job of creating all of my marketing materials.
I'm especially in love with this pricing guide that I'll be presenting to potential clients who meet with me.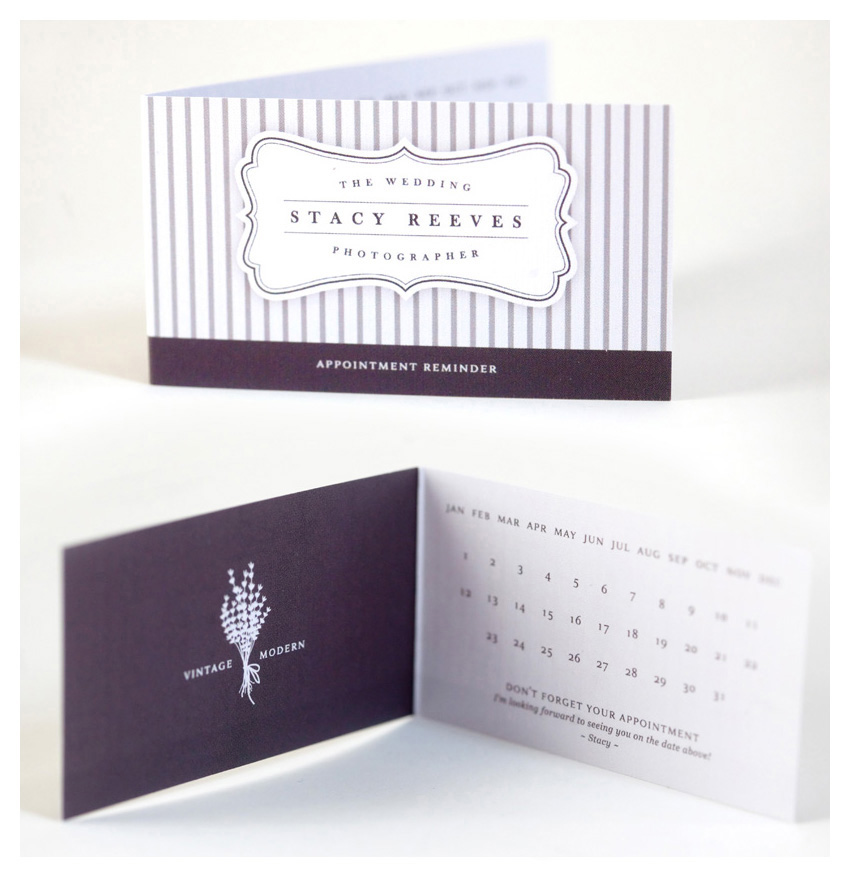 Appointment cards (from WHCC). These are so adorable, I can't wait to start sending them out!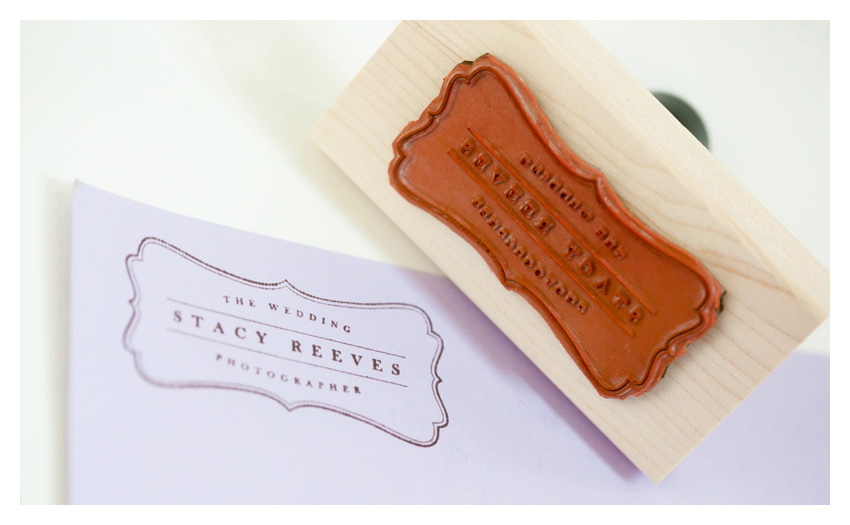 Stamp from RubberStamps.net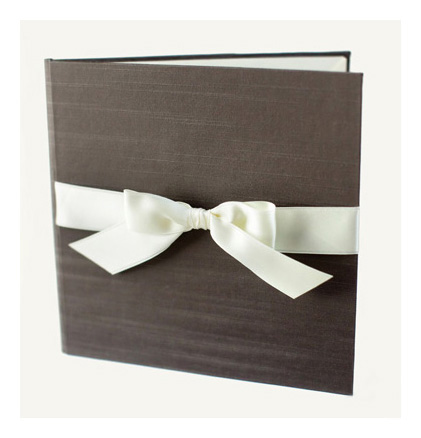 New CD Packaging for digital negatives (from Cypress Albums)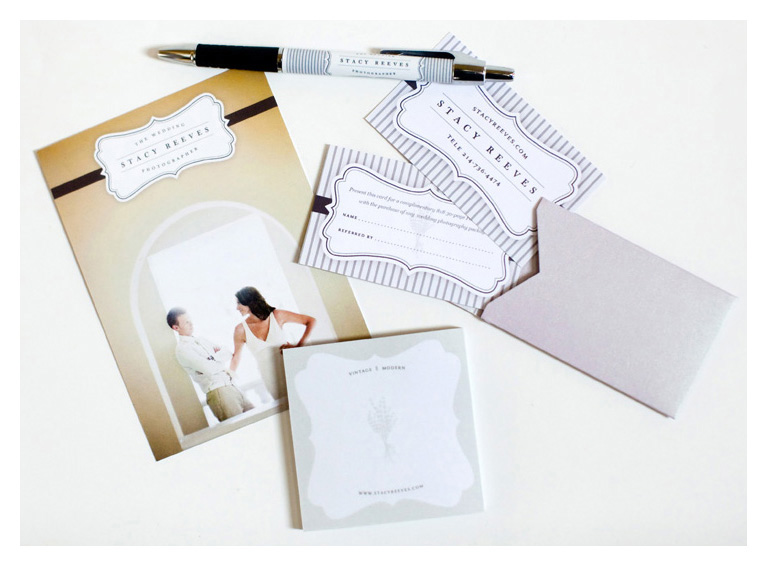 Postcards, pens, referral cards, and post-it notes (from GotPrint, VistaPrint, WHCC, and VistaPrint, respectively)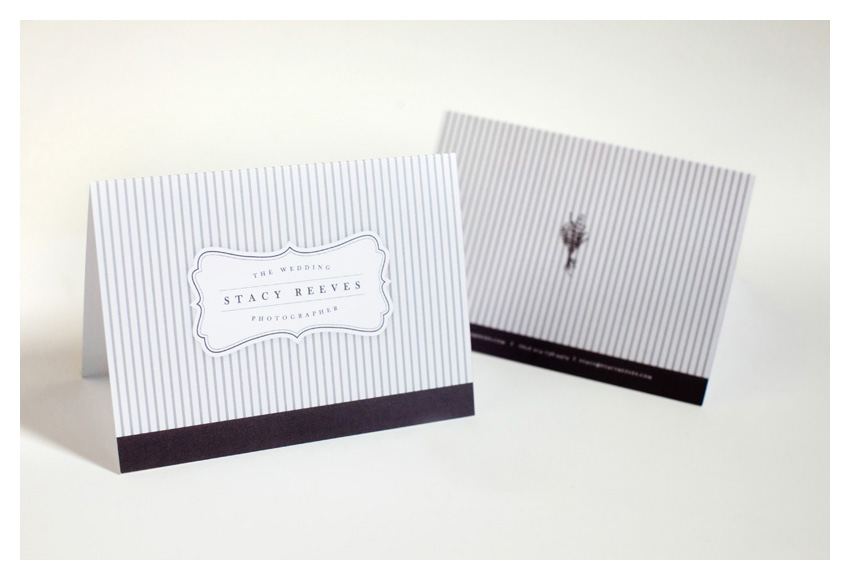 Note cards/Thank You Notes from WHCC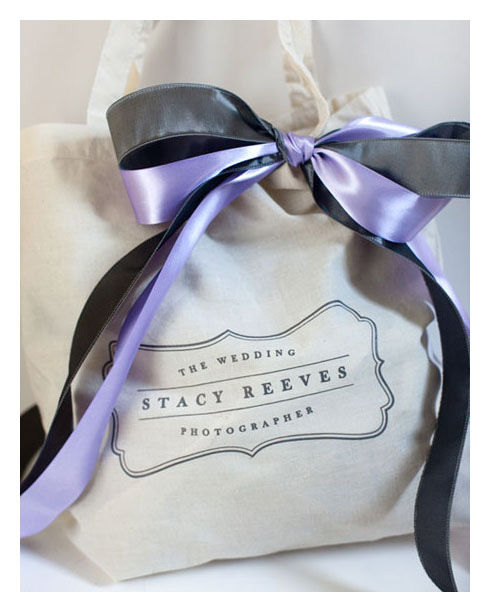 Tote bags! Anyone want one? They're perfect for carrying around at bridal shows ;)
So what inspired my brand? In my opinion, it's really important for a brand to be reflective of both the business and the people who use the product/service. Thus, the first step for me was to sit down and think about my clients – who they are, what they do, what appeals to them, etc. As I thought about my brides old and new, the one common thread I saw was that they all embodied a modern Southern lady.  My brides are beautiful, elegant, and classy, but never stuffy or uptight.  They strongly value family, heritage, and personal relationships.  They're fond of tradition but willing to put a modern spin on things.  Most importantly, they are all friendly and welcoming to everyone around them. That is the Stacy Reeves bride, and that is who I want my business to appeal to. Ashley took that description and created a beautiful brand that I could not be happier with.
I learned a few things during this process:
Hire the right person.  Choose a professional, someone with experience and a great portfolio and a design aesthetic that you love.   This is not the time to hire a crafty friend or a design student or a startup designer.
Be prepared to invest time and money.  This process isn't cheap or fast, and is just as valuable, if not more so, than a cool new camera or lens.  I started working on my brand in June of last year, got on Ashley's waiting list in November, began working with her in February, and finally went live with it in April.  Although I got very impatient at times, taking nearly a year gave me the opportunity to look past trends and "cool ideas" and really identify exactly what I wanted, something that I will stick with for a long time to come.
Know your target market.  Know who your average client is, what they like, where they shop, what appeals to them, what turns them off, etc.  Identifying these things will give both you and your designer a good reference point for where to start.  Also keep in mind that more than likely you'll need a different brand for each type of photography you do.
Trust your designer.  Assuming you hired a professional, they have a successful business for a reason.  They know the difference between a fad, a trend, and a style, and they are trained to be able to take what you like and translate that into good design.  During my process, whenever I was torn or unsure, I deferred to Ashley's judgment, and it always turned out to be the perfect choice.
Again, I strongly recommend giving the girls at Luxecetera a call. They are extremely talented, and I know they will take good care of you and your business!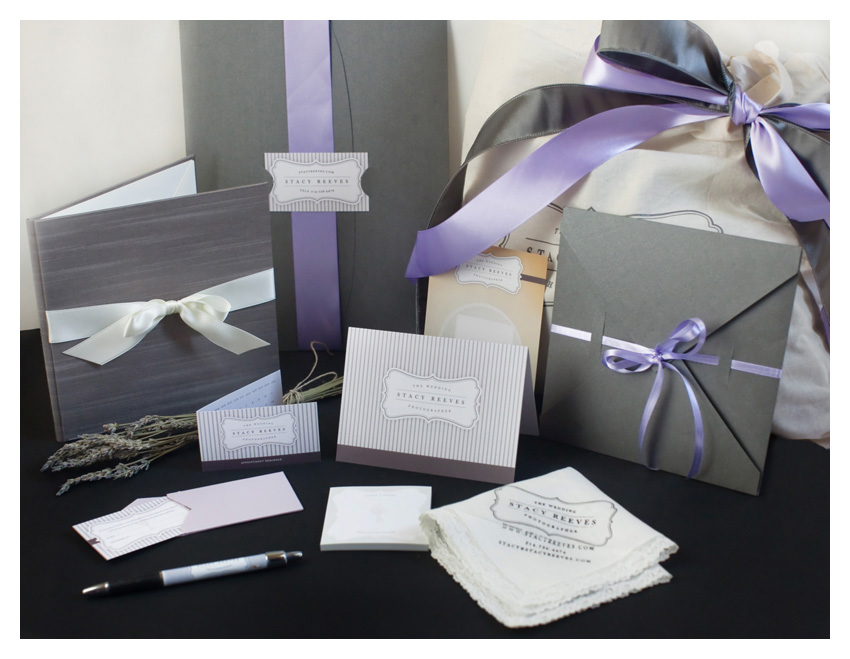 Here's the whole suite. I'm so excited and relieved to finally have a brand that I adore!