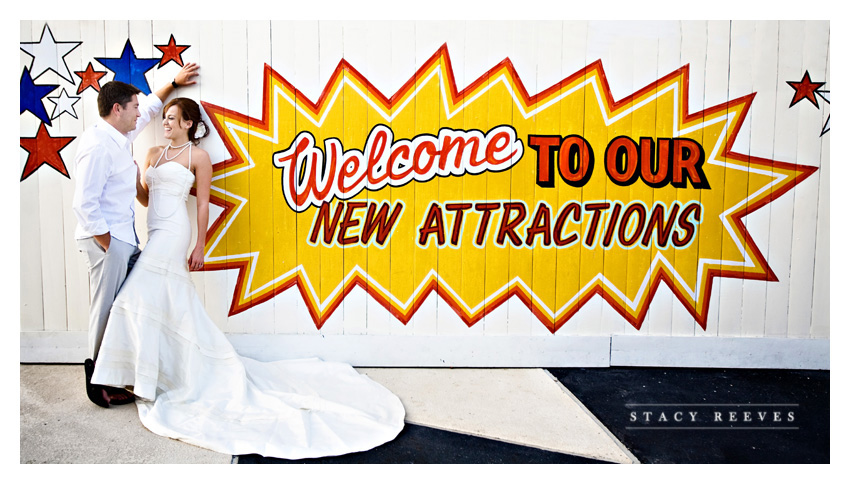 Today I'm introducing a new feature on my blog.. My marketing this year is all about my clients, showing off who Stacy Reeves Photography brides and grooms are.  Since my job is to take a couple and tell their love story through my eyes, this is a fun way of letting my blog readers into my world and showing off some of my favorite clients from years past.  It's also a chance for me to show off some old photos that I still adore!
For the first Client Spotlight, I knew I wanted to feature Alex and Nick, because they have been such great supporters of me for so long.  They've been some of my most vocal referral sources (I can trace at least seven of my weddings this year back to them in some way).  Their Chicago engagement session was one of my first destination portrait sessions, which kick-started a part of my business that has now become incredibly popular.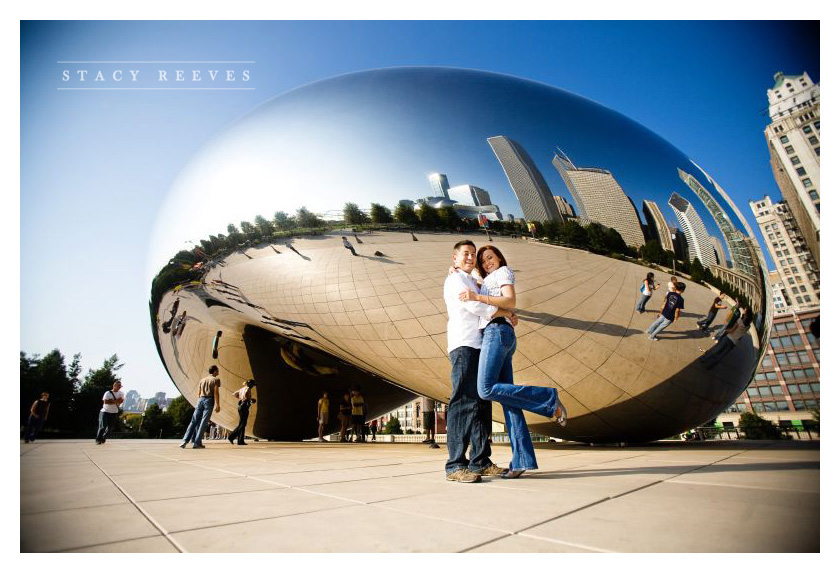 Alex was also one of my first brides to brave the cold waters of Kemah for a Fearless Bridal session (also known as a Trash the Dress session, a trend that is huge up north but slowly gaining a presence down south).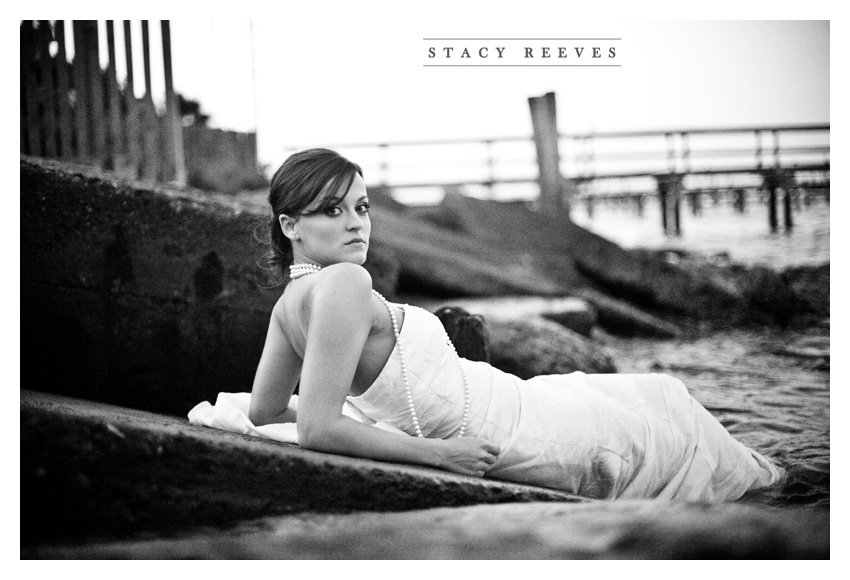 Their wedding was featured in several wedding magazines, and to this day I still get referrals from people who somehow saw Alex and Nick's wedding images and loved them.  I wish I could take the credit, but just look at these two – they made my job too easy!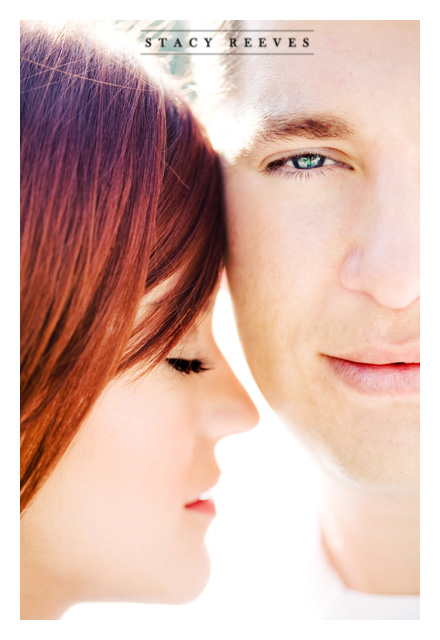 About the Bride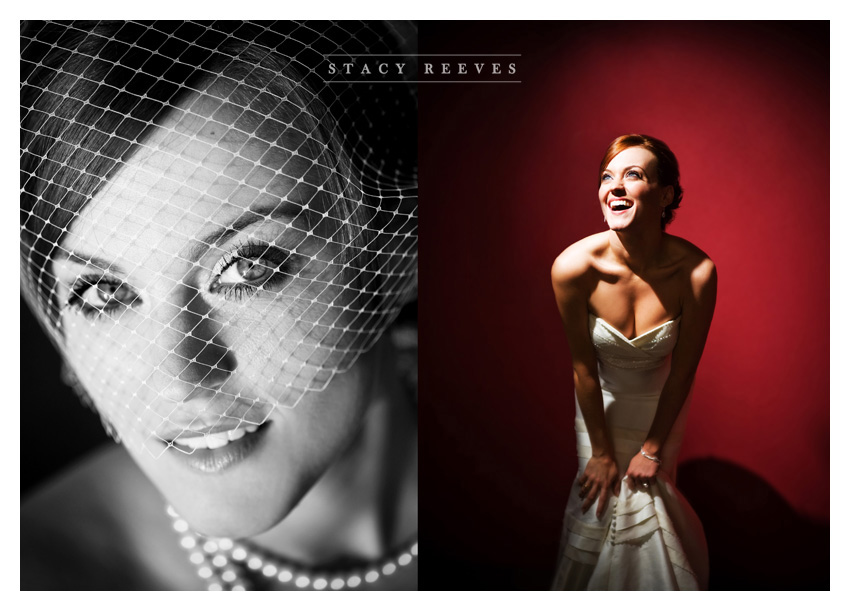 Name: Alexandra Noelle (Olson) Luton
Birthplace: The Woman's Hospital of Texas in Houston – which is also where Nick was born, and where I currently work as a nurse.
Current hometown: Houston
Education: B.S. in Microbiology from Texas A&M (2005) and B.S. in Nursing from UT Health Science Center in Houston (2007)
Job: Neonatal ICU Nurse
Hobbies: Decorating and home improvement. I'm also a fanatic for any kind of live music, and I especially love finding out about up-and-coming artists before anyone else does. And I could read In Style magazine for days on end, especially accompanied by a venti iced green tea (unsweet, please!) from Starbucks.
Favorite store: Anthropologie. It's like a whole sensory experience.
Favorite song: Ever? "Let's Stay Together" by Al Green
Favorite book and/or movie: Let's go with movie — Juno
Favorite thing about your spouse: He only has one dimple, and his ears are the perfect shape. That's probably not what you meant, though. Nick can literally accomplish anything he sets out to do – he embodies the greatest combination of desire, willpower, and luck I've ever seen. He doesn't know the word "can't", and he's so, so great at helping me slowly erase it from my own vocabulary. He's an amazing companion and mentor.
Fun Fact(s) about you: I love babies more than anything on the whole earth. I can say the alphabet backwards. Some friends and I once sang for a former president and his family at his private College Station residence. And Chicago is hands-down my favorite place, ever.
Stacy's note: I can attest to Alex loving babies. She was a bridesmaid at a wedding I photographed last weekend, and watching her playing with some of the babies in attendance was beyond adorable. I can't wait to see this woman become a mother herself! No pressure, Nick!
About the Groom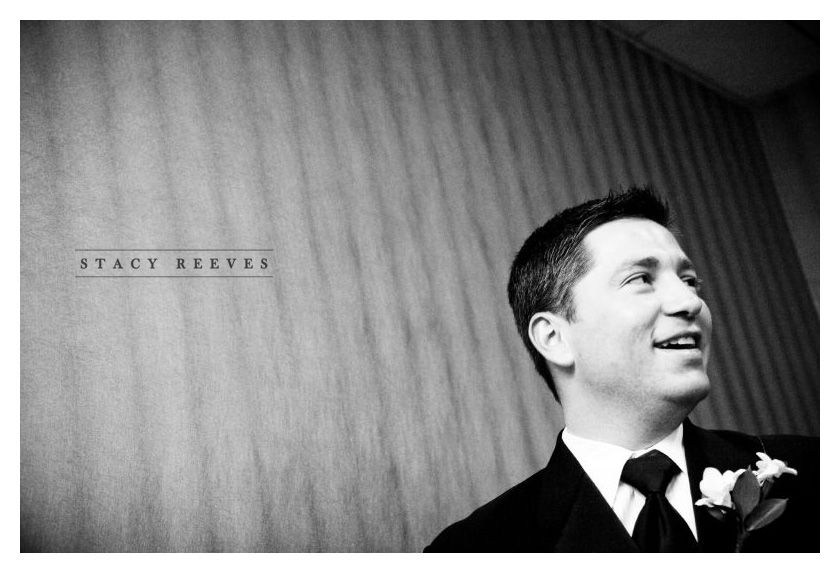 Name: Nicholas John Luton
Birthplace: Houston, TX
Current hometown: Houston
Education: B.S. in Civil Engineering (2003) and M.B.A. (2005) from Texas A&M
Job: Land Acquisition Manager for Centex Homes
Hobbies: Golf and home improvement projects
Favorite store: Home Depot
Favorite song: It changes every couple of years, but old Aerosmith and Red Hot Chili Peppers songs are some of the favorites
Favorite book and/or movie: Can I do "favorite actor" instead? Tom Hanks, hands down.
Favorite thing about your spouse: She is the most caring person I've ever known and will do anything for anyone at anytime.
Fun Fact(s) about you: I helped lead a team of individuals to raise over $200k for charity back in 2001 selling t-shirts at Texas A&M. We had to sell over 80,000 t-shirts for $5 each to make that much money! It was an incredible experience that I wouldn't trade for anything.
Stacy's note: For those of you reading this familiar with Texas A&M, you might remember the event he mentioned as the Red, White, and Blue Out.. Here's some visual proof of Nick's amazing contribution to the world:
About The Wedding

Dating/married for how long: Dating since 2002, married since 2008
Wedding date and venue: February 22, 2008 at Hotel Derek in Houston
Honeymoon location: Bucuti Beach Resort in Aruba
Proposal story: (told by Alex) For my 23rd birthday, Nick surprised me with tickets to see A Christmas Carol at the Alley theater in downtown Houston. After the show he arranged for a private tour of the theater, including the script library, the costume closets, and where they build the sets. It was incredible. Afterwards, we took a short walk around the area while we waited for time to pass before our dinner reservations. We were completely alone in the middle of downtown Houston, and Nick pulled a card out of his pocket and handed it to me. He said he was planning on waiting until after dinner, but he just couldn't hang on to it any longer. I thought it was just a birthday card. When I opened it, the outside read, "To the love of my life". Oh my gosh! I squealed, opened the card and saw the words "Will you grow old with me"? Then we both lost it. Nick got on one knee and asked me to be his wife, right in the middle of the city… not something I was expecting from such a typically private guy. After an hour of hugs, kisses and phone calls to family and friends, we had a fabulous dinner and spent the rest of the evening celebrating with champagne in the Presidential Suite at the historic Lancaster Hotel. It was beautiful.
Favorite thing about planning a wedding: Figuring out how to have exactly what we wanted on a less-than-desirable budget, without sacrificing quality or style
Resources that helped you during wedding planning: Magazines, online blogs and message boards of other brides – really, just the internet in general. Google can be a hugely useful tool when you're trying to think outside the box on things. We did a ton of research on every aspect before making any decisions, since we had to be so careful with our money. Also, you can never have too many Excel spreadsheets – ours were color-coded and everything.
Favorite wedding detail: Alex – Our vows and all the music. I even hand-picked the song playing when the reception doors opened. Music isn't often thought of as an important detail, but I believe it should be.
Nick – The fact that one of our best friends was the minister. I would have been a mess without Jeff up there with me.
Favorite moment of your wedding: Alex – The moment the doors opened at the start of the ceremony and I saw Nick waiting for me at the end of the aisle. You can tell how I was feeling by the photos where I'm all-out into the ugly cry! It was genuine happiness, more than I have ever felt before.
Nick – Same moment as Alex's. My heart stopped for a couple seconds and I had a hard time standing up. My bride was absolutely stunning.
Anything you wish you'd known when you started planning your wedding, or anything you didn't do that you wish you had done: I would change little things here and there, like I'd have chosen a vintage cake topper and made our thank-you notes myself in order to match our save-the-dates, but nothing really other than that. It was really a wonderful, wonderful day.
Why you chose Stacy Reeves Photography: From the start, we sought someone who would take a more photojournalistic approach to our wedding photos, rather than the more traditional, posed approach. We wanted a photographer capable of capturing the feelings and emotions of the day, not just the outfits and hairdos. Stacy's ability to chronicle every detail of a wedding is so in-depth that we didn't even feel it necessary to have a videographer. Stacy also channels her creativity in new and different ways for every couple – so that each pair gets something fabulous that they love, but also something completely different from anyone else. From the very beginning, we could tell that Stacy was very intuitive about what ideas we would love, and she never tried to make us into anything we weren't. She truly captures the essence of each couple for who they are, and has the extraordinary ability to translate their love across the camera lens into something that radiates from each and every photo.
Favorite wedding photo: There are way too many to choose, but this is the first one we bought, so I guess that means it's our favorite.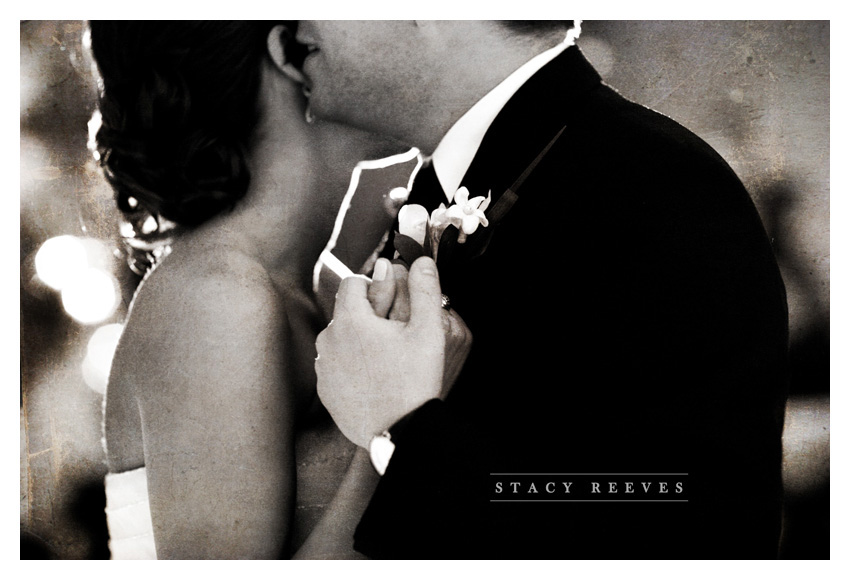 Stacy's Favorites

One of my favorite moments of their wedding day was when Alex saw her father for the first time all dolled up in her wedding dress.  When her father teared up, Alex immediately went into what she calls her "ugly cry"!  The emotion of the moment, combined with the perfect light, came together to create an image that is still on my favorite shots list.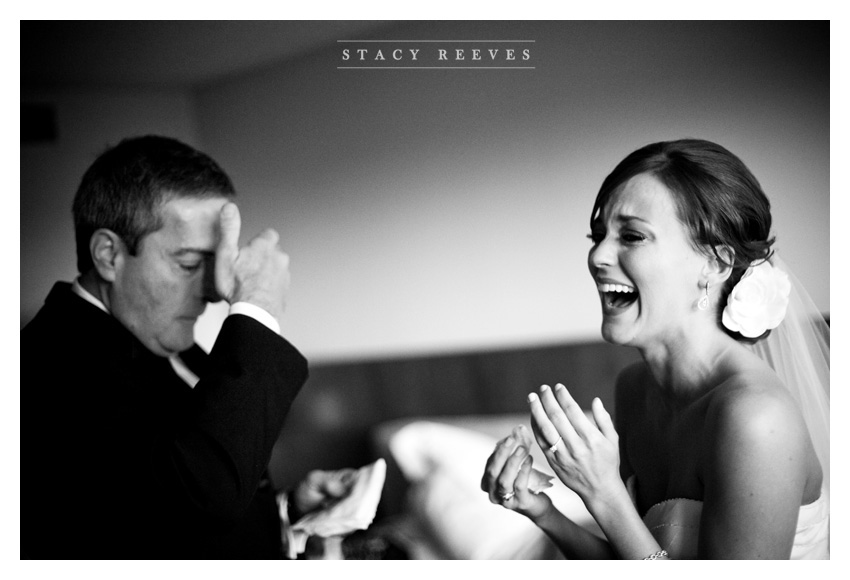 Another one of my favorite images from that day was a series we did with the wedding party.  I knew their ceremony would end after dark, and lighting a large group in a fun, artistic way can be challenging, so I spent a lot of time racking my brain trying to think of something unique.  I ended up purchasing a bunch of rainbow glowsticks, and the result was fantastic!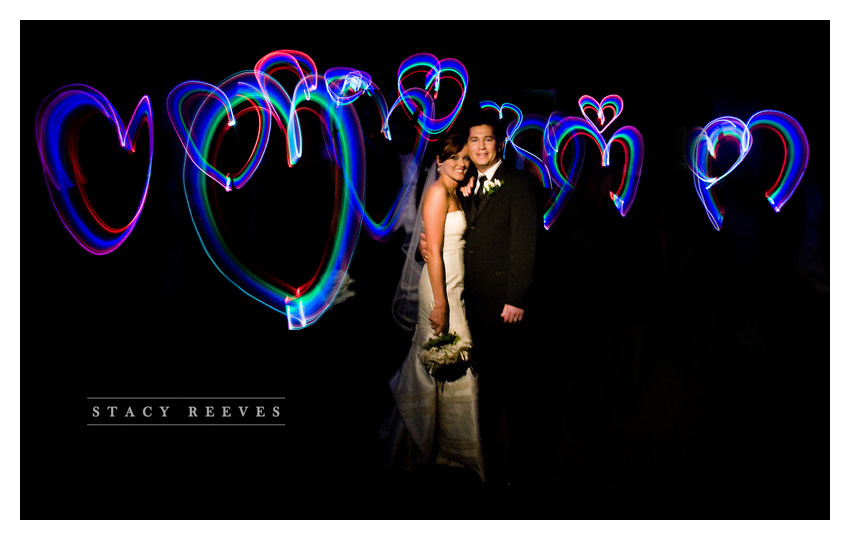 Finally, this one is by far my favorite dance photo ever.  I love that they are in the middle of a sea of wedding guests dancing and laughing and talking, but they seem to be completely in their own world.  It's such a special moment, and I honestly feel very lucky to have captured it.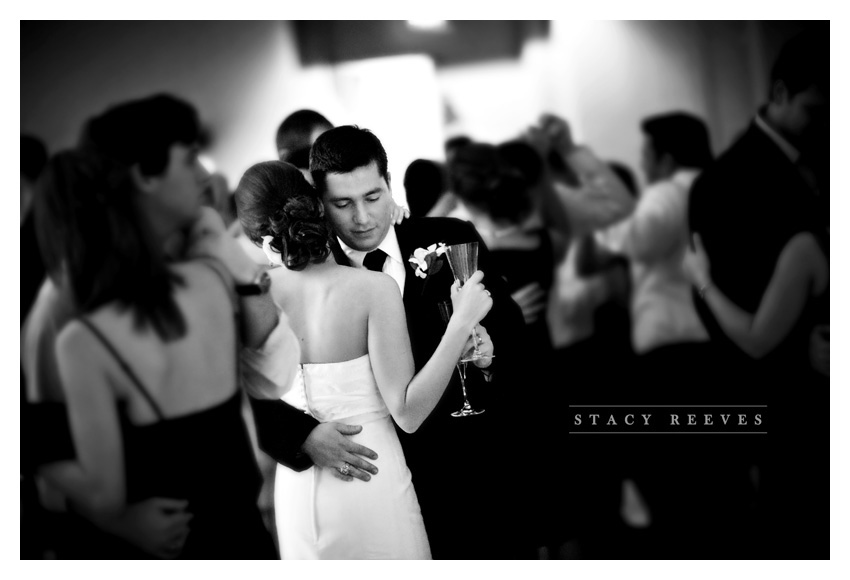 In the future Client Spotlights will be by request or nomination only. If you're a former wedding client and would like to see yourself on the blog again, or if you know one of my couples you'd like to see featured here, let me know!