Stacy Reeves Photography has been getting a lot of wonderful press lately, and I just wanted to take the time to publicly say thanks for all the love.
Michelle Loretta of Mmm.. Paper runs one of the best wedding blogs I have seen targeted specifically at wedding insiders.  Sage Wedding Pros has very "sage" advice for anyone in the wedding industry, and I think her blog should be required reading for every coordinator.  Thanks so much to Michelle for featuring me and allowing me to share a little bit of my experience, and thanks to the always-amazing Kelly Simants for referring me!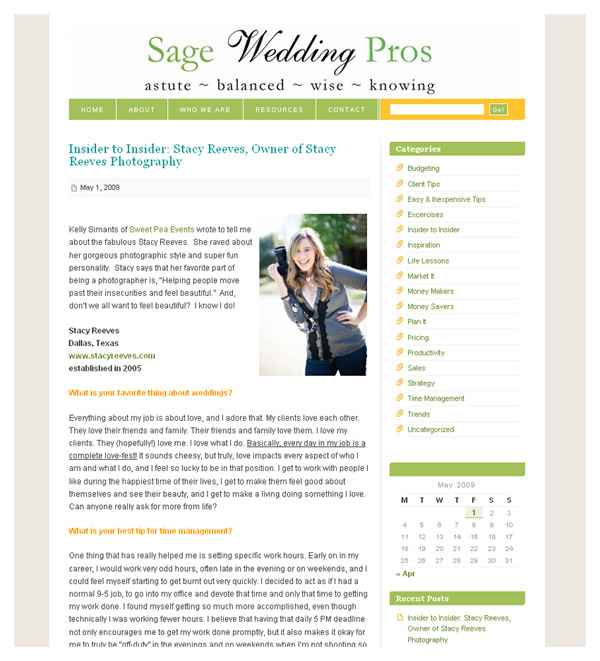 Style Me Pretty is a staple in my everyday life. Each morning I get up, check my e-mail, then head to Bloglines to see what's new on all my favorite blogs, and Style Me Pretty is one of the first ones I check. Abby, SMP's editor, is legendary in the industry not only for her elegant line of wedding invitations, but also for her uncanny eye for trends in the industry. My "wedding inspiration" folder is jam-packed with images I have collected from the Style Me Pretty website. They also maintain a collection of the top wedding vendors, and I am incredibly flattered to have been invited to join their Little Black Book. The LBB is an invaluable resource for brides looking for the best vendors in their area.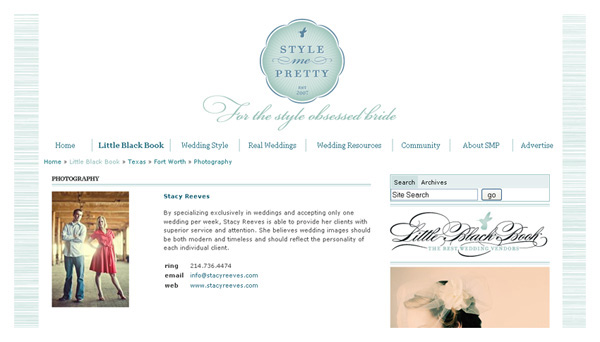 Tara and I just had a great lunch date last week, and I swear when it comes to weddings we have the exact same brain! Tara has a stunning sense of style and design, which is obvious from her fantastic website and her wedding design work. We both tend to favor weddings that have a bit of Southern elegance to them, so I can't wait to work with her in the future! I'm also very very humbled that she highlighted me on her Tara's Tips blog.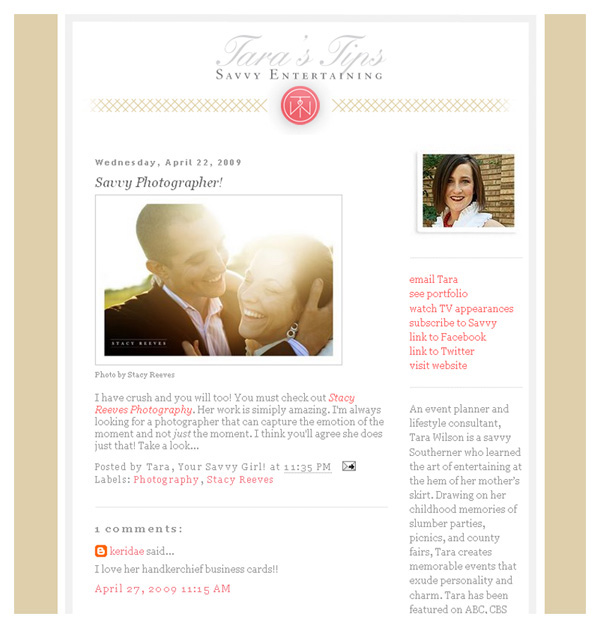 The Bride's Cafe is a great wedding inspiration website run by Janie Medley and features some gorgeous wedding details.  Don't you just love this blog header?  It makes me want to curl up with a hot chocolate and just immerse myself in beautiful wedding images.  I'm very honored to be a Featured Vendor on this lovely site!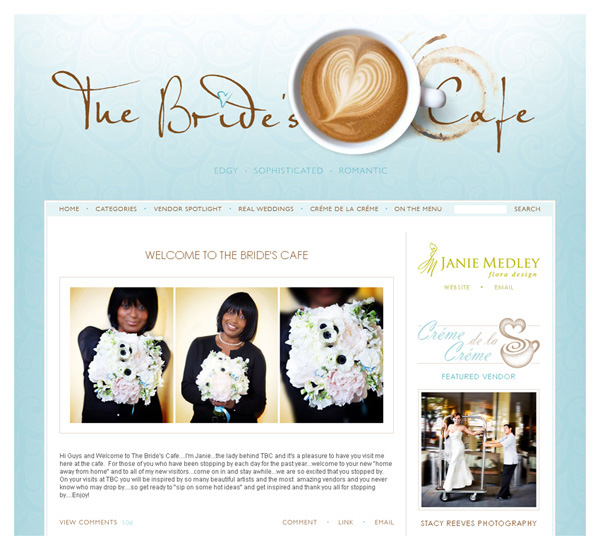 Something Blue Blog is an extension of Dallas Wedding Planner and is a site I regularly send my brides to for great tips on local vendors, venues, and trends in the Dallas wedding scene. I always check their Industry Insider section for great discussions of the behind-the-scenes aspect of weddings. I was very excited to see Susan and Adam's wedding (coordinated by Kathie Seeley of Grand Events) on their blog!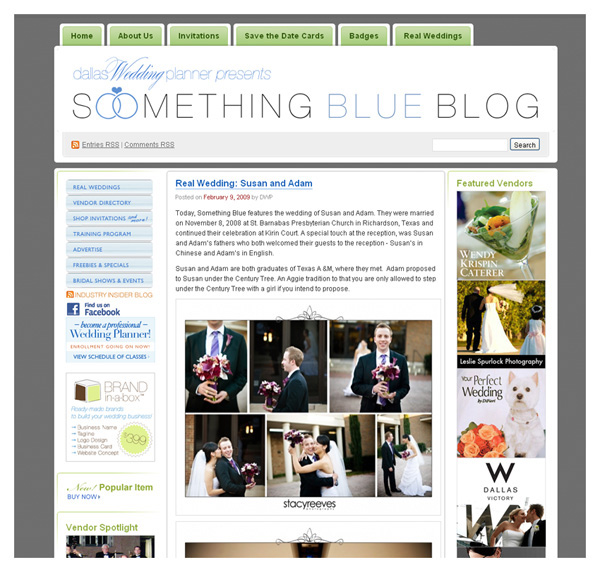 Finally, I have had the dubious distinction of having one of my wedding images featured on Tacky Weddings. I'm happy to say, however, that that particular wedding was actually one of the most beautiful, classy weddings I have ever shot, and the shot in question was simply part of a practical joke played on the bride. Still, thanks to Neatorama for featuring the images and saying some kind things about my work.  Be sure to check out both Neatorama and Tacky Weddings for some very amusing content.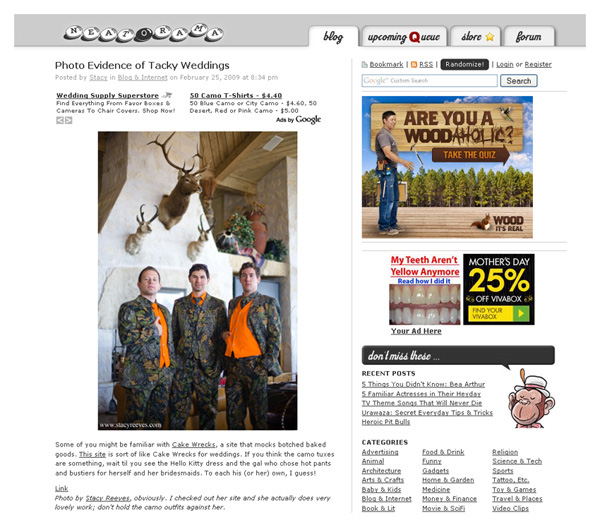 Thanks also to The Bride's Project, Casando Ideias, En Pointe Photography, Chance and Claire, Alaska Aggies, With This Ring, Soupfender Shots, Blissfully Satisfied, C Star Events,  Anonymous Midwest Girl for linking to me.  These sites all have some great info on them, you should check them out!
UPDATE!!! I just realized Jenni and Cade have been featured on Southern Weddings. This was truly one of the most beautiful weddings I've ever shot, it deserved to be featured and Southern Weddings was the perfect place for it. Head on over there to check it out!